Olive Oil, Lemon and Sweet Basil Soap Bars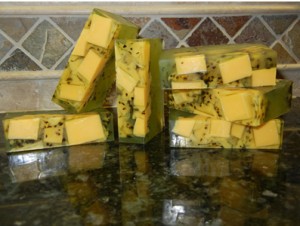 There are many benefits from using Olive Oil Soap Bars. It is proven to help with skin conditions such as Psoriasis and Eczema. Its lather leaves your skin silky and luxurious. Olive Oil Soap Bars are great for shaving and sensitive skin. My favorite soap bar for shaving is my Olive Oil, Lemon and Sweet Basil Soap Bar . It will leave your legs feeling silky smooth and the sweet basil pieces act as an exfoliant. Your skin will never feel so good.
Materials I used for this Bar:
Mitre Box for Regular
CC Loaf Straight Soap Cutter
Lemon Shea Soap Cubes from a previous soap batch
2 lb Block of Olive Oil Melt and Pour Soap Base - makes 8 4oz Soap Bars
1 Tbsp of Sweet Basil
Spray Bottle of Rubbing Alcohol
Step 1 Cut the olive oil soap base into small cubes, place into a microwaveable safe glass measuring bowl. Microwave for 30 seconds, stir and microwave again for another 30 seconds. Add 1/2 of blue cube. microwave for another 15 seconds. TIP: Remember all microwaves differ, you might need to adjust the melting time. Add 1 Tbsp of Sweet Basil. Stir soap until completely smooth. The glass container becomes very hot. Please be careful! If you would like to add Essential Oils, do so now.  I didn't use any for this batch because the yellow chunks have Lemon Essential Oil already in them but I did consider adding some peppermint oilfor a little extra kick. The choice is really yours on that.
Step 2 Pour soap mixture into the Silicone Regular Loaf Mold. Let set for 5-7 minutes, drop in small yellow chunks. Spray top of soap with rubbing alcohol. This gets rid of any bubbles. ( FYI: The Sweet Basil may float to the top. It's okay! It will give your soap character.) Step 3 Wait a least 3 hours before removing your creation from the mold. Tip: I always put mold into freezer 15 minutes before cutting. It makes slicing the bars a breeze. Once removed from mold place soap loaf into Mitre Box. Slice into your desired size.
Thanks for Reading and Happy Soap Making!
Erika and The Bulk Apothecary Staff