When attempting to make healthier choices in our diets, a lot of us will reach for yogurt. It's light and creamy, low in calories, delicious (there are so many flavors!), and easy to grab when we're on-the-go. It's pretty darn good in the frozen form too….though I doubt it counts as "diet" at that point. Oh well…. We all seem to be aware of the good it does our bodies from the inside- but did you know yogurt has amazing benefits when used topically? It's high in zinc which helps fight acne breakouts, it has antibacterial properties, and with natural lactic acid content it makes a wonderful, gentle exfoliant! So can you imagine how amazing it can be when blended into a soap?! Pretty amazing! Get ready for squeaky clean, super soft skin!
This next recipe is sure to put a smile on everyone's face (I know it did mine!). With a nourishing blend of coconut and olive oils, skin-loving yogurt, and a scent that will leave you craving chocolate cake- your skin will thank you for this one! So go gather your supplies and let's make a beautiful, divine smelling bar soap that's so pretty your guests may be tempted to stick it in their purses on the way out the door. Luckily, you'll have a few bars to spare….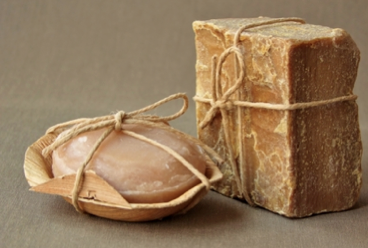 Chocolaty Yogurt Soap
Here's what you'll need…
-       Sodium Hydroxide (Lye)
-       Distilled Water
-       Plain Whole-Milk Yogurt
-       Cocoa Powder
-       Chocolate Angel Fragrance Oil
And here's what you'll do…
Before we get to soapmaking, you'll need to mix the colorant. Using 1.5 teaspoons of Sweet Almond Oil and 1 teaspoon of Titanium Dioxide, mix well with a small whisk or place both ingredients in a mini blender (like a bullet). The colorant must be completely blended with the oil to ensure even distribution of the color. Set aside.
On to the soapmaking! Make sure you use proper safety precautions before beginning (no one likes burns…they hurt and they suck the fun right out of the soapmaking really fast!). Add 4.8 ounces of Lye to 8.7 ounces of Distilled Water. ALWAYS add the lye TO the water- never ever ever do it the other way around (BURNS!!). Stir gently and set aside to cool.
Melt 8.8 ounces of Coconut Oil and mix it with 26.3 ounces of Olive Oil in a large bowl.
Once the lye/water mixture and the oils have cooled to below 120 degrees F, add the lye/water to the oils, pouring it slowly over a spoon or the stick of your immersion blender. Since we're working with yogurt in the recipe, make sure the lye/water has cooled significantly as it will reduce the likelihood of scorching the yogurt when it's added to the mixture. Begin to blend with your stick blender until light trace is achieved.
At light trace, add 2.9 ounces of Yogurt to the mixture and continue to blend with the stick blender until full trace is achieved and the mixture is smooth.
Pour 1.5 cups of the mixture into a small bowl and color with the Titanium Dioxide mixture, blending with a whisk. Set aside.
For the remaining soap mixture, whisk in 1 teaspoon of Cocoa Powder and stir until completely blended into the mixture.
Next add your fragrance! Using 1 ounce of Chocolate Angel Fragrance Oil and 1 ounce Vanilla Essential Oil, use your stick blender to evenly distribute the oils throughout the mixture.
Using the white colored soap, pour from a high vantage point into the cocoa soap in 5-6 spots, saving about 1/4 of the mixture to use later in the process. With a wooden skewer, swirl the white soap throughout the cocoa soap with long, dragging motions.
Pour the cocoa swirled soap mixture into your silicone loaf pan and drizzle the remaining white soap across the top of the loaf, swirling just the surface with a wooden skewer if you'd like.
Spray the top of your soap with some rubbing alcohol and allow to sit uncovered for 3-4 days.
After the soap has cooled and hardened for several days, unmold from the pan and cut into even bars. Allow the slices of soap to cure for 4-6 weeks before use.
Enjoy!!
**This recipe comes from the book "Soap Crafting" by Anne-Marie Faiola**