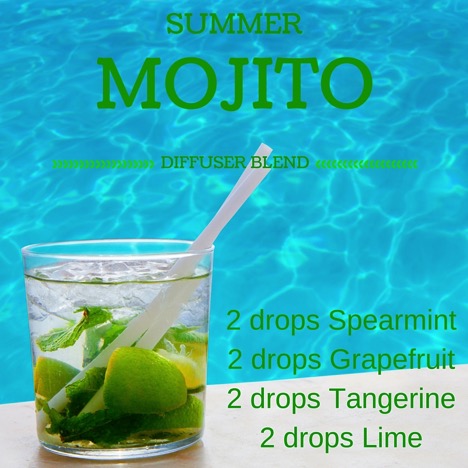 With the days getting longer, we're all finding ourselves shifting into a summer state of mind. The weather is warm and the sun is shining more and more, which leaves us longing for days by the pool and relaxing vacation vibes.
If you're not quite there yet, a great way to transition into a new season is to begin in the home. Pack away the winter fragrances and move towards scents that remind you of warm days. Fragrances can completely change the mood and feel of a space, so when prepping for a seasonal change, choose scents that fit the season to come: SUMMER!
This blend will make you feel like you're on the beach, sipping a tropical drink while soaking up the sun. And who isn't ready for that?! It's time for a summer state of mind! Simply mix these into your diffuser, and voila! 🙂
Mojito Diffuser Blend
2 Drops Spearmint Essential Oil
2 Drops Grapefruit Essential Oil
2 Drops Tangerine Essential Oil
2 Drops Lime Essential Oil
ENJOY!
Mojito Diffuser Blend Recipe