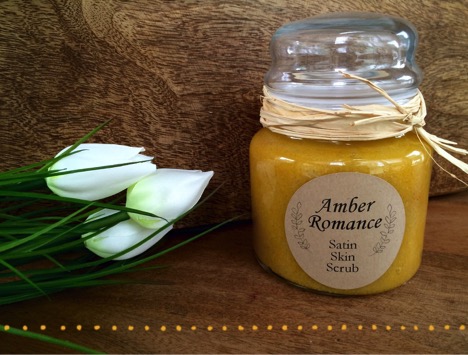 If you're Victoria's Secret fan, you'll recognize this familiar fragrance! Amber Romance has been a long-time signature scent at the store and a fan favorite.
Bulk Apothecary has a version that smells JUST like it! That means that you can whip up all sorts of body products right from your home that smell exactly like one of your store favorites!
Today I made a scrub that will leave your skin feeling like satin. Full of nourishing oils that will sink in and moisturize after the gentle exfoliation, your skin will feel like butter!
And smell like Amber Romance! 🙂
You'll need:
"Our version of Victoria's Secret" = smells like the real thing!!!
In a large bowl, blend the salt and sugar together.
Add both of the oils and stir well to blend being sure to scoop from the bottom so that all of the salt/sugar mix gets coated in oil.
Stir in the fragrance oil.
Then blend in color. I used a small amount, stirred, and then added a tiny bit more until I achieved a nice gold color.
Scoop into a lidded jar for storage and enjoy! Gentle massage over damp skin, rinse with water, and pat dry. Rub the remaining oil into the skin for extra moisture.
With fragrance oils that smell exactly like your favorite store-bought scents, it's easy to make your own products at home with ingredients that you know and love!
There are so many things you can make with essential oils. We also offer private label wholesale products for those times when you want someone else to do the creating. Take a look and get creative!