Spooky Soaps– Happy Halloween, Bulkers! 
Trick or treat?
Lucky for you, I have the treat to share today and it's a fun one! Ever get tired of the typical candy you pass out to little visitors or party guests? Why not change it up this year and make a treat that everyone will love (and not get a sugar high from).
If you haven't already checked them out, Bulk Apothecary has added a TON of new soap molds, including some spooky Halloween ones that are PERFECT for making fun treats for all of the little ghosts and goblins heading your way.
And the best part? Making molded soaps is quick and easy.
Ingredients:
1-2 Melt and Pour Soap Blocks 
Soap Color blocks of choice
Fragrance Oil
Halloween Themed Soap molds
All of these things can be purchased at our store! Links are embedded in the text below. 
Directions:
Start with a melt and pour soap base cut into cubes (for easier melting). If you plan to do several colors or different molds you can separate the cubes into different bowls before melting, making it easy to create different colors, scents, and shapes.
I melted my base down and colored the first batch a soft gray (like tombstones!). You can add color using soap color blocks or pigmented mica powders– both give great color.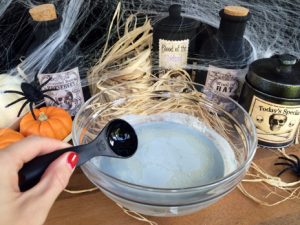 Stir in a small amount of fragrance oil (any scent you'd like!) and blend well. Always start with a small amount when adding fragrance and work more in as you go until you reach the intensity you prefer.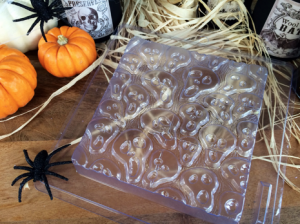 For my Halloween soaps, I'm using these two molds. One (as seen above) is a one-step pour that is scored to cut into individual soaps. Super easy.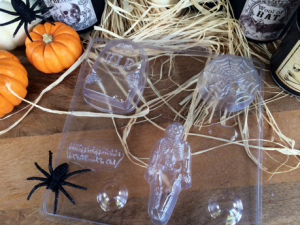 The second mold I'm using features a tombstone, spider web, and skeleton- so fun! This mold is one that I'll use for a few different colors of soaps (you'll see them later). They're also perfectly sized to package up for gifting.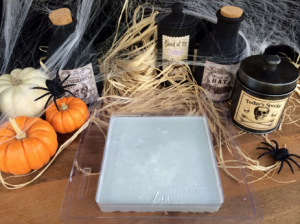 Soap molds are easy- after mixing the melted base with a color and fragrance oil, simply pour the mixture into the mold, spritz the surface with alcohol to eliminate bubbles, and allow it to cool and harden.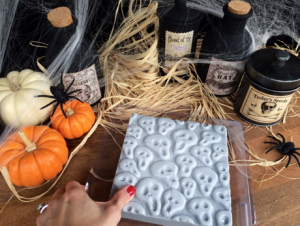 Demolding:
Once the soap has set, flip the mold over and gently, but firmly, apply pressure to the corners and across the center to release the block. It should release easily. If not, pop the mold in the freezer for a few minutes and try again- the block with pop out with no trouble at all!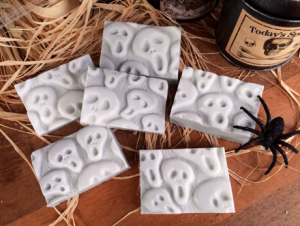 For the one-pour soap molds, use a straight soap cutter to slice the block into individual pieces. Aren't these spooky ghost soaps adorable?!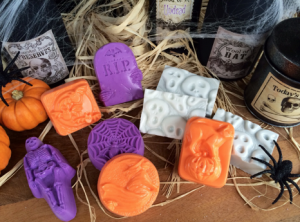 As for the individually shaped soap mold, follow the same steps to release each soap. Package them in clear bags (to show off all of your efforts!) and tie with the matching ribbon to finish.
No doubt, these treats are sure to be a hit!
---
Let us know if you try out this recipe or any others from our blog!
Looking for the best soap making supplies? Check out our website for melt and pour bases, molds, fragrance oils, butters, waxes, and more!
Bulk Apothecary is the best supplier of all things soap making! 
Bulk Apothecary makes no claims of "expert status" and the company will not be liable for any losses, injuries, or damages from the use of the information found on this website.
As with all products, users should test a small amount prior to normal extended use. If pregnant or suffering from illness, consult a doctor before use.