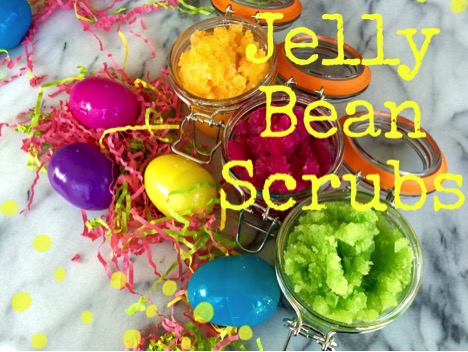 If you're looking for a fun activity to do with the kids over spring break, or maybe you want an alternative to all of the sugar and chocolate that typically fills Easter baskets- this recipe is it!
It's simple to make, can be done in a variety of bright colors, and can smell like your favorite fruity jelly beans!
It's the perfect spring scrub just in time for the holiday!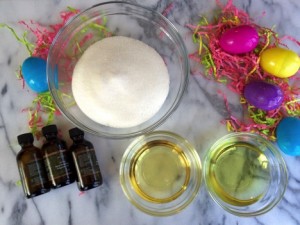 You'll need:
Directions:

In a large bowl combine the sugar, sweet almond oil, and grapeseed oil.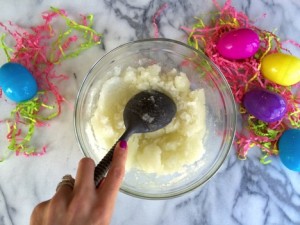 Stir the ingredients together into an even mixture. Be sure to scoop from the bottom to be sure all dry sugar gets coated in the oils.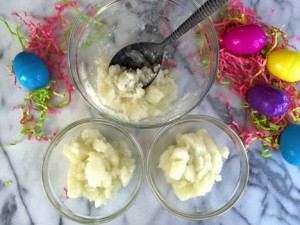 I separated my mixture evenly into three bowls so that I could color and scent each one differently. Also, this amount was perfect for filling three mini heremes jars.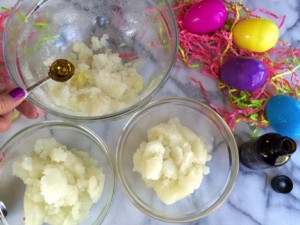 To each bowl, I added 1/2 tsp of fragrance oil. For my mixtures, I used fresh pineapple slices, juicy strawberry, and sweet grape. They smell SOOOO good!!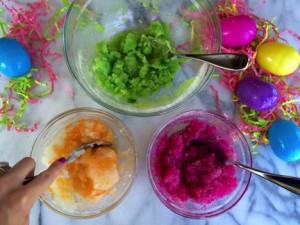 Now for some color! You can coordinate your colors with the fragrances, or you can mix and match (like I did). Be sure to really stir each mixture well- both liquid colors and mica colors can clump. Break up any highly pigmented spots and mix well until each mixture is even in color.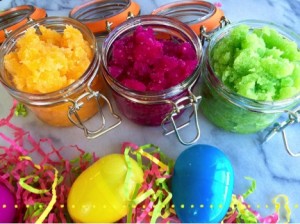 Scoop each mixture into a lidded jar (I used mini heremes jars- which I LOVE!) for storage and finish with a printed label. You can't see mine, but they have a bunny on them! 🙂
ENJOY!
To use: gently massage over damp skin. Rinse with water. Pat dry and massage remaining oils into the skin for a silky, moisturized finish.