No lie. Lately, I feel like I just can't kick the chapped lips from these last few months. And since I'm doing upkeep around the clock, this recipe is amazing because I can use it every day before I put on my lipstick for a nice smooth finish. Honestly, I've even been doing it before bed along with a lip balm for extra exfoliation and moisturizing effects! It leaves your lips feeling silky smooth and it tastes great too!
Ingredients:
Instructions: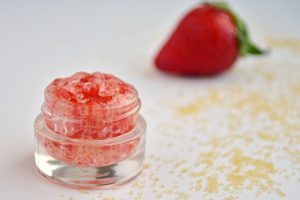 In a small bowl, combine sugar (as much as you'd like to make. I used about 1/2 of a cup) and pour just enough jojoba oil into the sugar to coat it. You want a wet blend, so you can make as little or as much as you'd like, being sure to add enough sugar and oil to achieve a wet, not runny, mixture.
Stir to blend the oil into the sugar until there is no dry sugar visible.
Now it's time for flavor! This strawberry mint flavor oil is absolutely yummy with just the right amount of minty freshness- PERFECT for a lip scrub!
Using a pipette, add in drops of the flavor until you're reached your desired taste. This can be as much or as little as you'd like. Everyone has a different preference- I happen to like mine full of flavor (because it tastes so good!) so I'm a little more heavy-handed with the flavor oil (I filled my pipette up just to the bottom of the bulb).
Now for some Vitamin E Oil to make your lips extra soft and smooth!
Drizzle in just a little- too much will make the mixture runny and thin.
Stir it all up and spoon the mixture into small lidded jars to prevent it from drying out. When needed, scoop a little out with your finger and gently massage into damp lips. Rinse with cool water and top it off with a nice creamy lip balm (make one yourself!). Your lips will thank you!
PS- This makes a lovely gift when packaged nicely! Pair it with some handmade lip balm, add some pretty labels and pass it out to your most favorite people 🙂