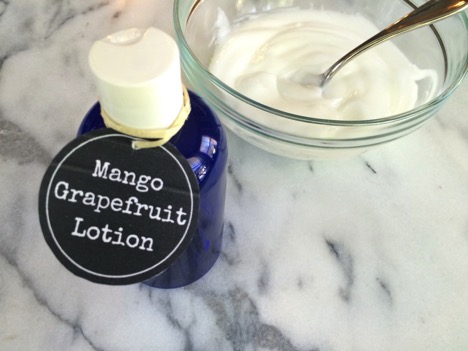 Today's Mango Grapefruit Lotion recipe is SUPER easy! We used our basic unscented lotion base, but you can certainly use any of the other unscented lotion base you would like. Plus, if you want to keep it all natural, simply substitute an essential oil for the fragrance oil. Essential oils are a great way to scent a base!
Mango Grapefruit Lotion is a great way to get the most out of these last days of summer.
With unscented bases, you get all of the benefits of a luxurious lotion with the flexibility of adding whatever fragrance you want. For a nice summer lotion, I used a sweet mango grapefruit oil that smells SO good!
Ingredients:
2-3 cups Organic Unscented Lotion Base
Brazilian Mango Grapefruit Fragrance Oil
Cobalt Blue Boston Round Bottle
This really is a wonderful summer scent. It's sweet and fruity and reminds me of a tropical vacation. I've used it in a few body products, but I'm probably going to use it for a candle as well!
Directions:
In a bowl, combine the unscented lotion base with the fragrance oil. You can use anywhere from a few drops up to 1 teaspoon. I used 1 teaspoon because I like a heavily scented lotion 🙂
Blend the oil into the lotion base. You can do this by hand or use an electric mixer to whip the two ingredients together.
Fill the bottle with the finished lotion. For bottles with a narrower opening, like the one shown above, use a kitchen funnel. Scoop the lotion into the funnel and tap the bottle on the counter to drop the lotion in.
That's it!!
I told you it was easy! 🙂
You can do this with any fragrance or essential oil you'd like. Using unscented bases is such an awesome way to create your own products so get creative and whip up something great!