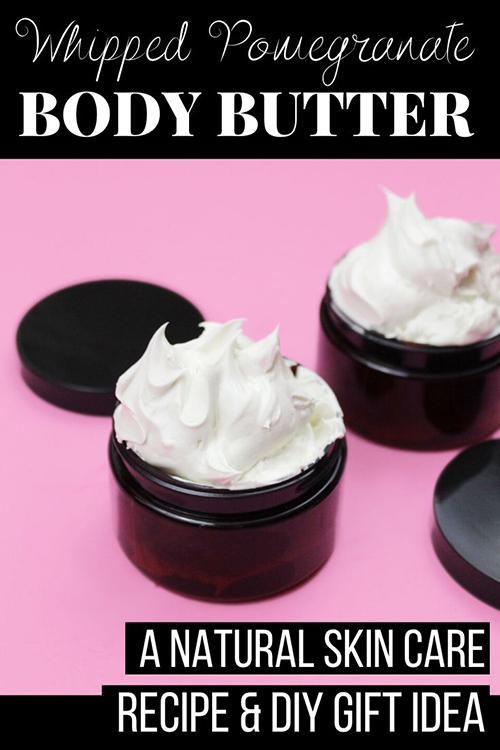 Hydrate your dry winter skin with this natural pomegranate whipped body butter recipe with this guest post from Rebecca D. Dillon of Soap Deli News. Made with natural, unrefined cocoa and shea butters, this homemade body butter also contains hemp seed oil and a natural pomegranate fragrance oil. Don't keep this beauty of a recipe to yourself, however! This natural skincare recipe is also perfect for homemade gifts. So be sure to make extra to thrill your friends and family this holiday season.
Natural Gifts for the Holidays
I love to make handmade bath and body gifts for the holidays. However, more than ever I have to be especially conscious of the ingredients that go into those products. There are three people in my life — my mother and two amazing friends — who have all gotten cancer within the past five years. All three, luckily, are survivors. We are also all over forty.
Therefore I'm always trying to gift something special. I want it to be a little self-care indulgence. However, I also want it to be as natural as possible. While I love using essential oils for a lot of my skincare recipes, I sometimes like to try fun seasonal fragrances as well. Now that Nature's Oil offers all-natural fragrance oils — I'm talking zero phthalates, no synthetic anything fragrances — I'm totally hooked. Not only do these natural fragrance oils smell amazing, the scents are to-die-for. 
I definitely have a few favorites so far, like their pomegranate and lemon creme all-natural fragrance oils. While I used Nature's Oil All Natural Pomegranate Fragrance Oil for my pomegranate whipped body butter recipe, you can use your own favorite, natural scent if desired. 
Hydrating Whipped Body Butter for Winter Skin Care
This pomegranate whipped body butter recipe is not only all-natural, it's the perfect product for dry or maturing skin. I chose simple ingredients for this recipe that are easy to find at Nature's Oil's sister store, Bulk Apothecary.
For this recipe, I also avoided using coconut oil. While coconut oil is a wonderful, all-natural moisturizer, I prefer using hemp seed oil for winter skincare. Not only does my dry, and occasionally eczema-prone skin, respond well to hemp seed oil, but like fractionated coconut oil, it's a dry oil. So you don't get that super greasy feeling.
I also chose to choose emulsifying wax for my pomegranate whipped body butter recipe. A lot of whipped body butters tend to melt quickly in any kind of heat. By formulating this recipe with an emulsifying wax, I was able to whip my body butter without it melting at higher temps. In fact, this whipped body butter holds it shape quite nicely when stored in a temperature-controlled environment. It also took some of the guesswork about knowing the right time to "whip it, whip it good."
Ready to get started making your own hydrating, whipped body butter for winter skincare? You can find my easy, pomegranate whipped body butter recipe below.
Pomegranate Whipped Body Butter Recipe
Ingredients:
6 oz. unrefined shea butter
.75 oz. unrefined cocoa butter
1 oz. hemp seed oil
1 oz. vegetable-based emulsifying wax
.15 oz. all-natural pomegranate fragrance oil
1-2 dollops vitamin E oil, optional
Instructions:
Using a digital scale, weigh out the shea butter, cocoa butter, and emulsifying wax. Combine the ingredients in a double boiler, then gently heat until all of the ingredients have melted.
Once melted, remove the melted butters and wax from heat.
Then weigh out the hemp seed oil and stir into the melted ingredients. 
Allow the melted ingredients for the whipped body butter recipe to cool somewhat.
Then weigh out the all-natural pomegranate fragrance oil and add, along with the vitamin E oil, to the body butter mixture. Mix well with a spoon or spatula to incorporate. Now place the liquid body butter into the refrigerator.
Once the body butter starts to become opaque, remove it from the refrigerator. Then use a blender or a whisk attachment on an immersion blender to whip the body butter until it reaches your desired fluffiness. Take care not to over whip your body butter as it can deflate. Additionally, the heat from whipping the butter body can prevent it from fluffing up.
If your body butter doesn't seem to be getting fluffy, simply allow it to cool off more. Then try again. If you're extra impatient, you can place the body butter into the freezer for 5-10 minutes, as needed.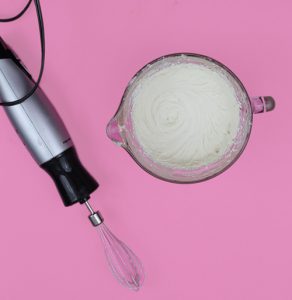 Once you've whipped your body butter, but before it has a chance to stiffen, spoon your product into a large jar. Alternately, you can distribute your whipped body butter evenly among several smaller containers for homemade holiday gifts. (I used three 4 oz. low profile jars for my pomegranate whipped body butter, with a little leftover for testing.)
Then simply label your containers as desired for personal use or for gifting. 
To use your pomegranate whipped body butter, simply massage a small amount onto skin as desired. (Keep in mind a little goes a long way!)
If you enjoyed this pomegranate whipped body butter recipe, then you may also like this cranberry body butter recipe or my natural rose body butter recipe. Both of these natural skincare recipes make great gifts and are also perfect for winter skincare.
Discover more recipes at Soap Deli News blog here. Also be sure to follow Soap Deli News across your favorite social media platforms including Pinterest, Facebook, Twitter, and Instagram.