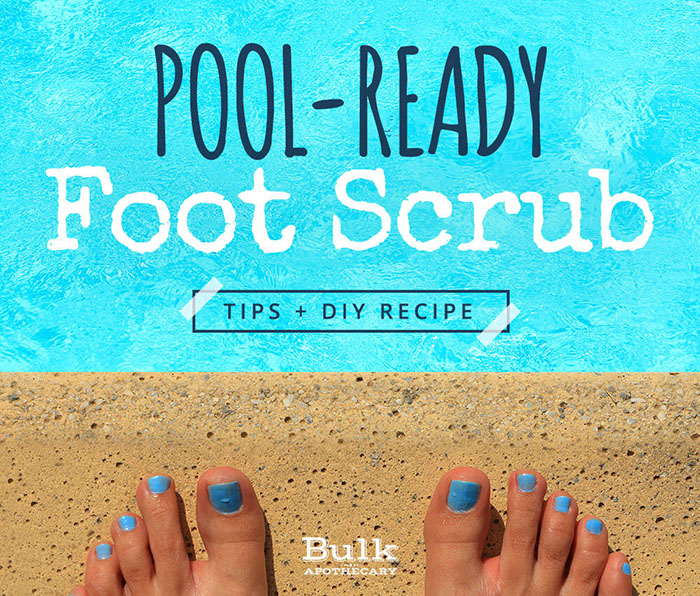 Summer is right around the corner. (Can you believe it?) This means time with family and friends at the pool, on the lake, and at the beach. But with this excitement of the summer season we may be forgetting to get our feet pool-ready.
Thousands of people are embarrassed by their dry, cracked feet; but embarrassment shouldn't be part of summer. Check out these ideas of how to make your feet silky smooth and ready for any pool or beach day.
Use an essential oils foot scrub– Essential oils like jojoba, Almond or Coconut lock in foot moisture, keeping them softer, longer. Try this recipe. It's is one of our favorites.
          Lavender Peppermint Scrub
1 cup (225g) of Epsom Salt, Coarse Kosher Salt, Sea Salt, or Sugar (Choose one)
10 drops Peppermint Essential Oil 
10 drops Lavender Oil
1/2 cup (120ml) Jojoba Oil, Olive , Sweet Almond, or Coconut oil (Choose one)
Hydrate your skin each day- Use lotions and creams to keep moisture in the skin. Apply lotion several times a day, especially after washing your hands or getting out of the shower. This lets the lotion soak deep into the skin.
Wear socks- Use cotton socks to keep moisture on the feet, especially at night. Feet oils get rubbed on in the sheets when no socks are worn.
Soak your feet regularly- A foot soak made with essential oils is great for restoring moisture to your feet, and keeping moisture on your feet for longer.
Wear the right shoes- Shoes that are too small or old can cause oils to be rubbed off your feet. Make sure each pair of shoes is the right size before you wear them.