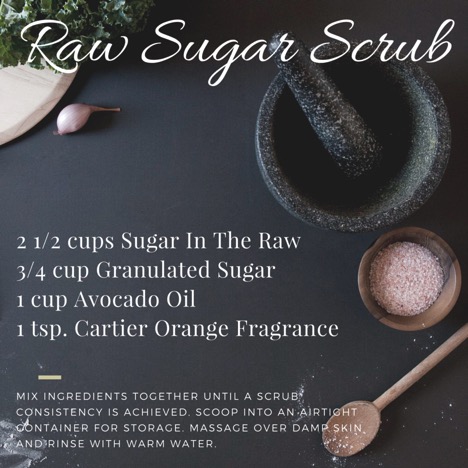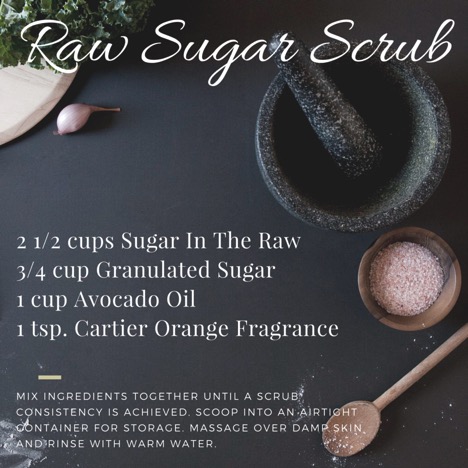 Here's a simple recipe that will get your skin glowing! In the summer months our skin can take a beating. Too much sun, hot, dry days and pool chemicals can leave the skin feeling dry, dehydrated and dull. With two types of sugar to gently exfoliate flakey skin away, and avocado oil to nourish and replenish, you'll be feeling silky soft in no time.
You'll need:
2 ½ cups Sugar in the Raw
¾ cup Granulated Sugar
1 cup Avocado Oil
1 tsp. Cartier Orange Fragrance Oil
In a large bowl, combine the first three ingredients. Mix well to be sure that all of the sugar has been saturated with the oil. If you prefer your scrubs to be more on the dry side (or the opposite) you can adjust the amount of avocado oil at this time. Now stir in the fragrance oil. This step is optional, but I really love the scent this fragrance oil brings to this scrub! It's sweet and fresh! You can also adjust the amount if you want your scrub to smell stronger or if you prefer just a hint of fragrance J
Scoop your finished scrub into an airtight jar for storage. For use, gently massage over damp skin and rinse away with water. Pat dry and massage remaining oil into the skin for extra moisture.
ENJOY!
Raw Sugar Scrub Recipe