I've got a bewitchingly fun treat for you today!
Bath salts are probably one of the easiest homemade products you can make, and one of the most relaxing! With busy lives, everyone can appreciate a nice, detoxing soak. But just because they're easy to make doesn't mean they have to be boring.
Take a few minutes to whip up a batch that's perfect for the upcoming holiday. Keep them for yourself, or package them in Halloween-perfect attire for a treat that's sure to be enjoyed!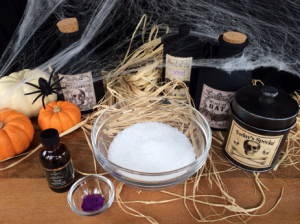 For bath salts that turn your tub into a steamy brew, you'll need: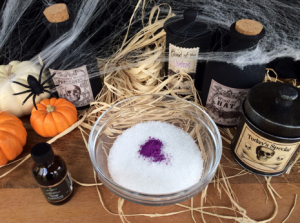 With colored bath salts, I always mix the color first. By doing this I can be sure that all of the salt is coated in the matte powder and can break up any clumps.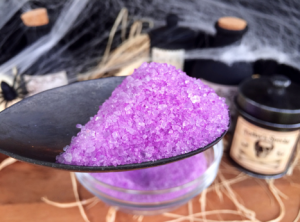 Stir and de-clump the salt and matte powder until the mixture is evenly colored (like the picture above). You'll want to make sure that you scoop from the bottom a few times to be sure you haven't missed any salt and that none of the matte powder settled at the bottom without being blended in.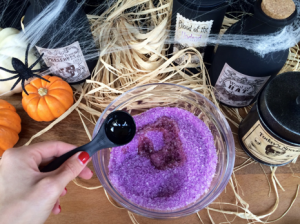 Now it's time for fragrance. With bath salts I tend to be a little heavy handed with the fragrance oil. Some of the scent will dissipate from the mixture as it sits in the bottle and I want there to be enough left in the salts that the scent comes out once added to the water.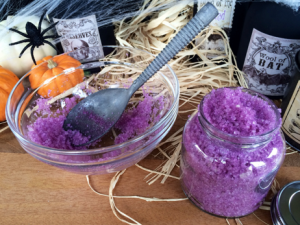 Thoroughly mix the fragrance oil into the salts. You'll have to start by breaking up the clumps that immediately form and the rest will separate easily and blend.
Scoop the mixture into lidded jars and finish with easy, printable labels with creative Halloween names!
To use, simply add to warm bath water and enjoy!
HAPPY HALLOWEEN!