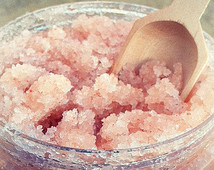 Lately I've been intrigued by pomegranates. Aside from a pomegranate martini (which is wonderful by the way….) I really haven't had much experience with the fruit. The look of it always fun- it's just so exotic. Like forbidden fruit from a secret garden on some tropical island that you only read about in books…. And the color is simply gorgeous! I just love them. Pomegranates have been getting a lot of buzz lately for their health benefits too so it's only natural to combine them into something amazing for the skin, right?
I thought so.
So here's a wonderful scrub that is sure to get your skin glowing. With nourishing cocoa butter and exfoliating brown sugar, the pomegranate was the perfect addition for a fun twist on an old favorite. It takes minutes to whip up and I'm sure you're going to love it!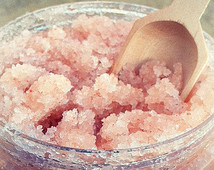 Brown Sugar Pomegranate Scrub
Melt the cocoa butter and pomegranate seed oil together and stir to blend. Remove the melted mixture from the heat and add in the essential oils for scent, blending well. Mix the brown sugar and pomegranate seeds together and pour the oils over the mixture. Stir well to evenly distribute the sugar, seeds, and oils. Place in an airtight container and massage into damp skin during your next shower. Rinse with warm water and follow with a nourishing moisturizer for the softest, silkiest skin you've ever had!
Enjoy!
Recipe inspired by
Erica Pence- Pomegranate Sugar Scrub