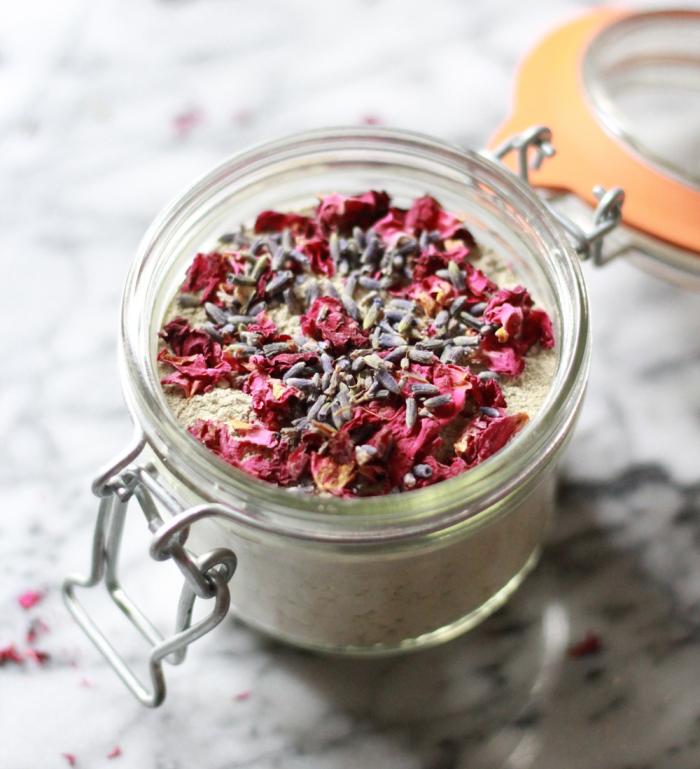 I can't help but fall in love with dried botanicals. They're just so pretty, right?! Blended into a beautiful soap, displayed in a fancy dish in a potpourri blend, used in a sachet to hang in your closet and fill it with sweet fragrance…they just make me feel so girly. Not to say that the boys can't enjoy them just as much as us girls do, they just have a way of making whatever they're used in feel pretty. And I like pretty.
This next recipe is no exception. Now, I'm basically a master chef when it comes to whipping up at-home beauty treatments, I've tried them all. Egg white mask? Check. Honey cinnamon mask? Check. Crushed up baby aspirin into a paste to get rid of that unsightly pimple? Yep- tried that too. I'm telling you, this facial mask takes the cake. It blends sweet botanicals with the benefits of bentonite clay and essential oil. It's a wonderful way to feel luxurious and pampered without leaving your bathroom! Follow it up with a silky moisturizer and your skin will be thanking you!
Here's what you'll need:
How to use: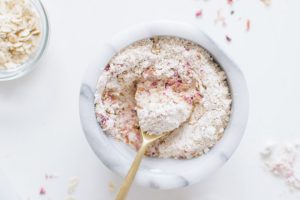 Combine all of your prepared ingredients in a small bowl and mix well (just to make sure every ingredient is evenly distributed). This recipe is used by adding a small amount of liquid (water or milk) to a small amount of the dry mixture to form a paste- whenever you feel like it! Prepare the dry mixture, store in a lidded container and use for up to a year by simply scooping out a tablespoon or so and adding enough liquid to make a paste!
Gently massage into to your freshly washed skin and leave on 20 minutes or so (I usually let it sit for one half-hour long show – it;s an easy way to time it and catch up on my DVR. I'm a multi-tasker). Rinse with a warm water and follow with a hydrating moisturizer.
Pretty easy, right?
So no more excuses. Go pamper yourself. Now. You deserve it!