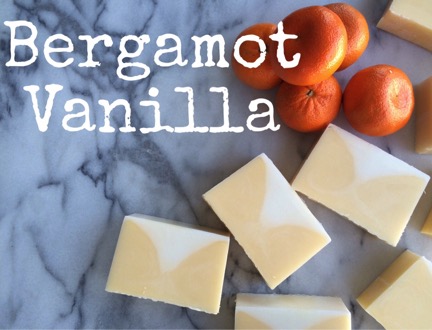 Mmm?
Can I just say that I LOVE orange fragrances? Especially coming off the spicy, sweet scents of the holiday, what better way to improve orange than by adding vanilla!
This soap is just that: Yummy. With bergamot essential oil (bergamot smells like oranges if you didn't know) and sweet accents of vanilla, you'll want to suds up with this bar every day!
And did you look at it? It's very pretty. Pale orange and white gently swirled through each bar- oh lala!
Grab your supplies and make some for yourself!
You'll need: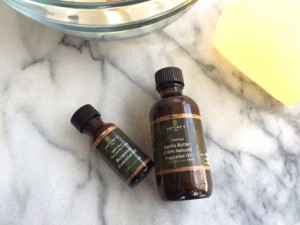 Orange and vanilla were the two fragrances I was shooting for when making this recipe. Bergamot essential oil is sweet and citrusy like a juicy orange so it worked perfectly. Originally I planned on using the vanilla essential oil, but I only had vanilla butter fragrance oil on hand, so I went with it. You can use vanilla essential oil or any fragrance that's vanilla based.
Begin by melting down the cubed Goat Milk base into a smooth, creamy liquid.
Add in 1 teaspoon of vanilla essential oil or fragrance and stir well to combine.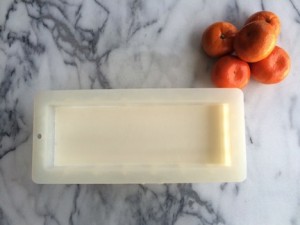 Carefully pour the soap base into the loaf pan.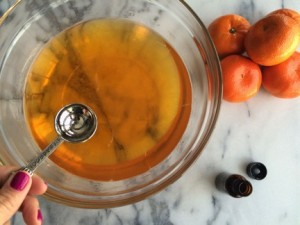 Next, meltdown the shave soap base and stir in 1 teaspoon of Bergamot essential oil. Bergamot oil is tinted yellow so it will add color to your base. If you're happy with the color you can stop at this step and move to pouring the mixture. I wanted my base to be more orange so I used a little soap color to achieve the finish I was looking for. You can do this with mica powders, liquid soap colors, or block soap colors.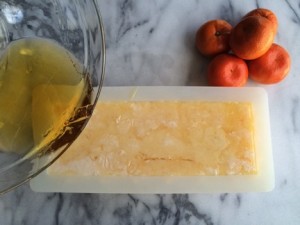 Carefully pour the mixture over the first layer. The two bases will swirl themselves, so no need to do any additional work! You'll see how beautiful the swirling looks when you slice it after the block has set.
Allow the soap to cool and set completely before removing it from the mold. Using a straight soap cutter cut the soap into evenly sized slices.
Isn't the swirling of the two colors gorgeous?! I just love the way these soaps turned out! They look just as pretty as they smell. ENJOY!