Today's Cedarwood and Clay soap recipe is packed full of skin-perfecting goodness: Bentonite Clay!
Bentonite clay is a natural healing clay comprised of minerals and formed from natural volcanic ash. It can be used multiple ways for different benefits, but when used topically it can heal and regenerates skin tissue, draw out toxins, treat acne and prevent breakouts, shrink pores, and reduce the appearance of scars.
By gently exfoliating, it evens out skin tone and leaves the surface feeling soft and smooth!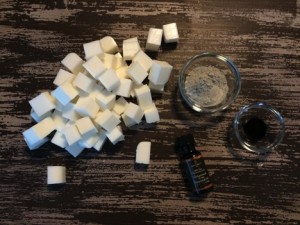 After experiencing a skin treatment using volcanic ash while on vacation and LOVING the effects, I was excited to create my own version! Using bentonite clay you can achieve the same soft, smooth, glowing skin at home. No need for passports J
Here's what you'll need:
Directions:
Begin by melting down 2 lbs. of the soap base. I chop mine into cubes for even melting and pop it in the microwave for a few minutes. When you've achieved a smooth, even liquid- you're done! Stir in the essential oil, blending well.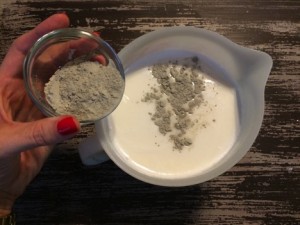 Next, add in the clay. Mix EXTREMELY well! If you're having trouble getting all of the clumps to blend into the mixture you can always use an electric mixer for a few minutes. Don't worry if there are a few small clumps left- they'll provide extra exfoliation as you use the soap.
Carefully pour the mixture into your soap molds making sure that each bar is poured evenly. For mine, I used a rectangle silicone mold.
Using the remaining ¼ lb. of soap base, melt it in the microwave and stir in the activated charcoal. Be careful- even a tiny amount of charcoal can make a mess!
Pour a small amount of the charcoal soap over each of the clay soaps. Using a wooden skewer, gently swirl the two soaps together. Each one will look different!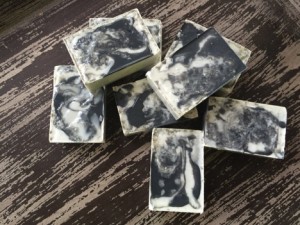 Allow the soaps to cool and harden completely (several hours). Pop free from the molds and enjoy!
While this recipe is very beneficial for the skin, it's also really pretty! The soap will feel slightly gritty when used as the clay gently rubs away dry, dead skin and polishes the surface to a glowing shine!
---
Let us know if you try out this recipe or any others from our blog!
Looking for the best soap making supplies? Check out our website for melt and pour bases, molds, fragrance oils, butters, waxes, and more!
Bulk Apothecary is the best supplier of all things soap making! 
Bulk Apothecary makes no claims of "expert status" and the company will not be liable for any losses, injuries, or damages from the use of the information found on this website.
As with all products, users should test a small amount prior to normal extended use. If pregnant or suffering from illness, consult a doctor before use.