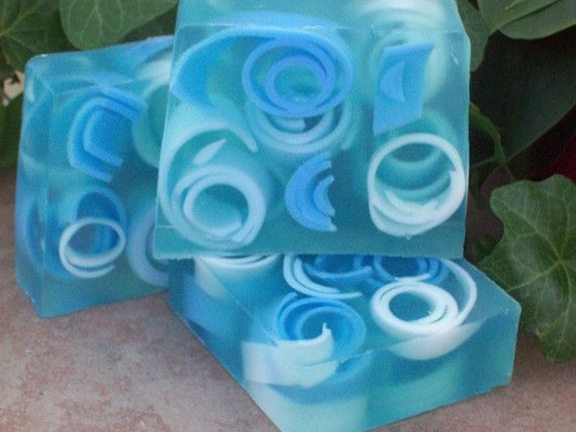 Since the winter months are upon, we want to highlight the great uses of eucalyptus oil. Eucalyptus and Mint are great for cold and flu season, as well as keeping your muscles from becoming tighter with the colder months.
We wanted to share with you how easy and fun making soap bars can be. We will give you step by step tutorial on making one of our favorite bars for this season, Eucalyptus Mint Soap Bar. This bar looks and smells amazing. Best of all, it's super easy to make.
Materials:
Silicone Regular Loaf Mold

Eucalyptus Mint 

Essential Oil

(You could also add 

peppermint essential oil 

for a little extra kick) – 1 Teaspoon. TIP: (you may use more or less, but a little goes a long way)

Clear Blue Cubes (1/2 half of 1 cube)

2 lb Block of Crystal Clear24k 

Melt and Pour Soap Base

-makes 8 4oz Soap Bars

Baby Blue Shea Butter Soap Chunks and Spirals- Previous made from another batch. TIP: (I used a Potato peeler to achieve spiral look)

Spray Bottle of Rubbing Alcohol
Steps: 
Cut the Crystal-Clear soap base into small cubes, place into a microwaveable safe glass measuring bowl.

Microwave for 30 seconds, stir and microwave again for another 30 seconds.

Add 1/2 of the blue cube. Microwave for another 15 seconds.

Stir soap until completely smooth. 

The glass container becomes very hot. Please be careful!!

Next, add 1 teaspoon of Eucalyptus Mint fragrance oil.

Stir soap mixture. Yes, it smells amazing!! 

TIP: Remember all microwaves differ, you might need to adjust the melting time.

Pour 1/2 of soap mixture into the Silicone Regular Loaf Mold. Let sit for 5 minutes, drop in small chunks and spirals (be creative), and slowly add the remainder of soap mixture.

Spray top of soap with rubbing alcohol. This gets rid of any bubbles.

Wait at least 3 hours before removing your creation from the mold.

Once removed from mold place soap loaf into Mitre Box.

Slice into your desired size. 

Tip: I always put mold into the freezer 15 minutes before cutting. It makes slicing the bars a breeze.