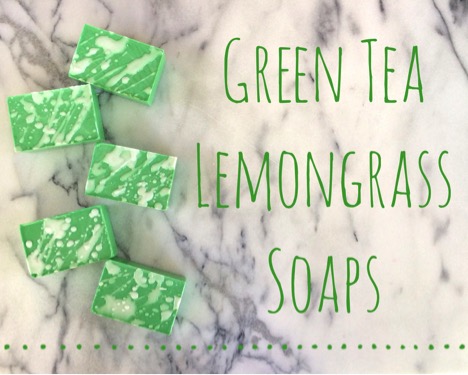 For a subtle, fresh, summery scent to close the season out, we have this DIY Green Tea and Lemongrass Soap recipe.
With a light, clean fragrance and some skin-loving soap bases, these pretty little bars are perfect for the shower!
Grab your supplies and I'll tell you how to make them! The kit can be purchased here!
Ingredients:
1 lb. Oatmeal MP Soap Base, cubed
¼ lb. Shea MP Soap Base, cubed
Green Tea & Lemongrass Fragrance Oil
This fragrance oil is perfect for those of you who aren't big fans of the sweet or fruity scents. It's crisp and clean. Very fresh smelling- which makes for a good shower product.
Directions:
Start by melting the oatmeal soap base into a smooth liquid using a microwave-safe bowl. I use a really big measuring cup because the handle and spout make pouring super easy and less messy. Just a couple of minutes stirring halfway through is all you need.
Stir in 1 ½ teaspoons to 1 tablespoon of the fragrance oil. You can adjust this amount if you want your soaps to have a weaker or stronger scent.
Now for color! Using a soap color block, mica powder, or liquid soap color (whatever you like best), blend color into your soap making the mixture as bright as you'd like! I obviously made mine pretty bright.
Pour the mixture evenly into the soap molds. This recipe won't fill the entire tray, so feel free to double it if you want a bunch of these bars!
Next, melt the Shea soap base. I just left this base as is since we're only using a small amount. Feel fell to add some fragrance oil if you'd like to! Using a spoon, drizzle the soap over the green bars.
Allow the bars to cool and harden completely (at least a few hours) before unmolding. With the silicone molds you can easily pop the bars right out.
I hope you enjoy these!