Orange and Honey Body Bars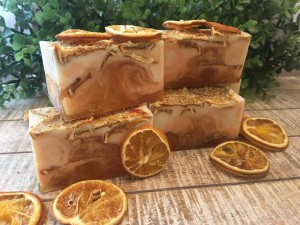 Can you even believe summer is over? While I'm sad to see summer go, I sure do love the colors of fall. It definitely puts me in the mood  to pull out all the fall decorations.
Plus, it's time to put away those fun soaps of summer and spice it up with new. Like this orange and honey body bar recipe.
Orange and Honey Body Bars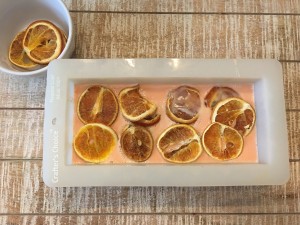 Ingredients:
All Natural SFIC Goat Milk Soap Base: 1lb
All Natural SFIC Honey Soap Base: 1lb
Perfect Orange Soap Color Block: ¼
Botanicals:
This Orange and Honey Body Bar looks like a work of art. It may seem like an intense recipe, but it's really pretty simple to achieve that layering marbled look. Let's get started!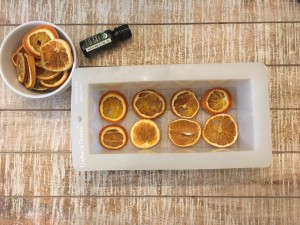 Step 1-2
Line the bottom of the silicon soap loaf with the orange slices. Choose pieces that are similar in size. Cut the All Natural SFIC Honey Soap Base into small pieces and place into a microwave safe mixing bowl. Begin melting at 30 second intervals. Continue melting until you have a smooth amber colored liquid soap base.  Add, 10-15 drops of the Organic Orange Essential Oil and stir. Slowly pour soap mixture on top of orange slices. Let harden for 15-20 minutes. (FYI: orange slices may rise when adding soap mixture. Tip: Using a stick,  firmly hold the orange slices in place during dry time.)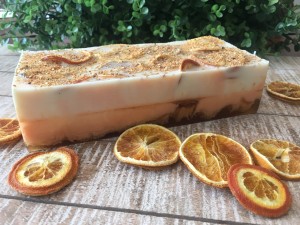 Step 3:
Cut and melt ½ off the All Natural SFIC Goat Milk Soap Base. Use the same melting times as above.  Add ¼ of the Perfect Orange Color Block into the melted soap mixture and stir.  Melt in the microwave for an additional 30 seconds. Continue stirring until the orange soap block is completely dissolved. Next, add 10 drops of the essential oil and pour mixture into the soap loaf.
Add more Orange Slices into the hot soap loaf. You can layer them or press into the first layer.  I did a little of both.
Step 4:
Melt the remaining ½ of the All Natural SFIC Goat Milk Soap Base and slowly pour on top of the orange layer. Sprinkle 1 tablespoon of the Orange Peel Granulated botanicals onto the top layer of the soap loaf and a few orange slices.  Let harden before slicing into soap bars.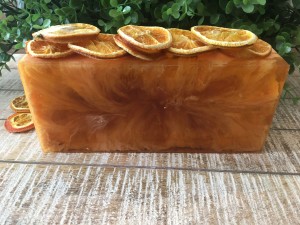 These bars are perfect for the fall season. They're great gifts, favors or something to put you in the fall mood.
Enjoy!
Orange and Honey Body Bar Recipe