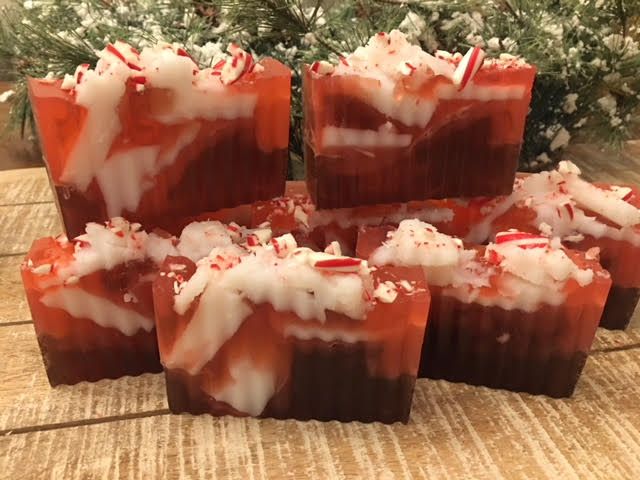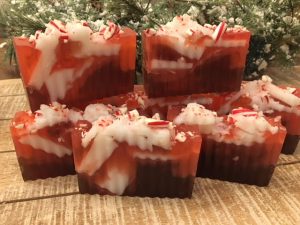 The holiday season is in full force, and if you are anything like me, you may have already stopped by your local coffee shop to try the new holiday flavors. So many to choose from, how do we pick just one? I was feeling extra festive today and tried the peppermint mocha latte. It was a delicious combination of peppermint and chocolatey goodness, topped with whipped cream, chocolate, and peppermint pieces. It gave me the perfect idea for my next soap bar creation, the peppermint mocha soap loaf. This festive-looking soap looks good enough to eat. It makes the perfect gifting item for anyone on your list. It will also look and smell delightful in your guest bathroom.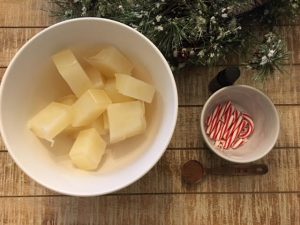 Ingredients and supplies you'll need for this recipe:
2 peppermint sticks- crushed
Perfect red Melt and Pour Color Block
1 teaspoon unsweetened cocoa powder
Peppermint essential oil
2lbs Stephenson Melt and Pour Crystal Soap Base– divided
2lbs Foaming Bath Butter (crystal OPC)- you'll only need a small chunk, save for our next project 🙂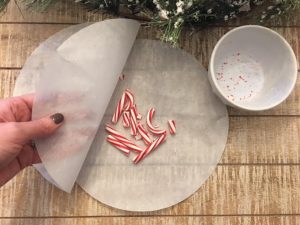 STEPS:
Step 1: In a microwaveable safe bowl melt 1lb of the Stephenson Melt and Pour Crystal Soap Base.
Microwave at 45 second intervals and stir each time (you may also use a double boiler in this recipe if you prefer). Once soap base is completely melted, let cool for 3 minutes. Add 10-15 drops of peppermint essential oil. Next, add 1 teaspoon of unsweetened cocoa powder. Stir until you achieve a cola colored base. Slowly pour mixture into the soap loaf and let harden for 10-15 minutes. Melt the remaining crystal soap base and add ¼ of the red color block. Stir until completely dissolved. You may need to microwave an additional 20 seconds. Add a few drops of peppermint essential oil into this mixture for an even stronger peppermint scent. Pour on top of first layer and let harden.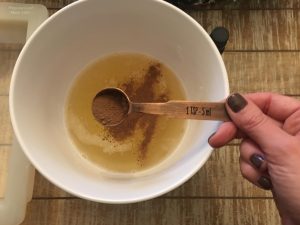 Step 2:
Using a peeler or pairing knife, slice foaming soap block into small pieces, chunks, or shreds. Get creative using your kitchen tools! FYI: the foaming soap is very soft and slices very easily. Place pieces on top and into the second layer. Next, crush 2 peppermint sticks into small pieces and sprinkle on top. The peppermint sticks give it that extra festive look.
Let soap loaf set up overnight.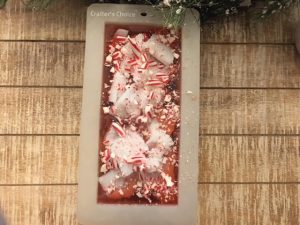 Using the crinkle cutter, slice soap loaf into desired size. This cutter gives each soap bar a really unique and fun look. The peppermint mocha soap bar looks great on display and smells terrific. ''Tis the season!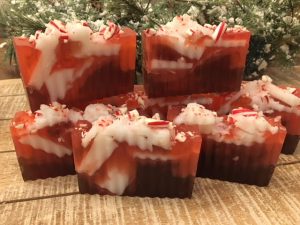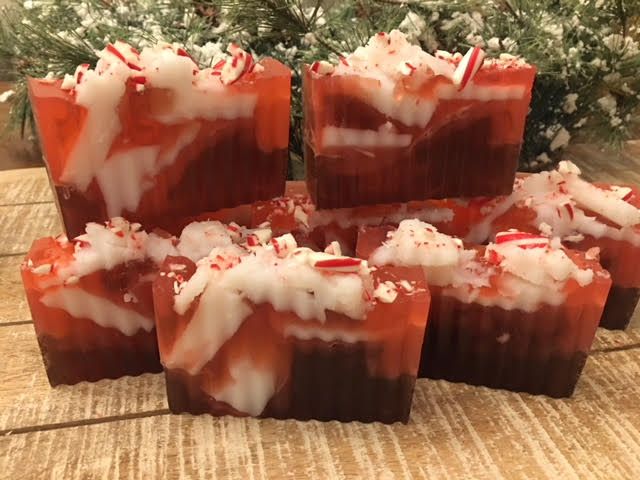 Enjoy!
Peppermint Mocha Soap Recipe