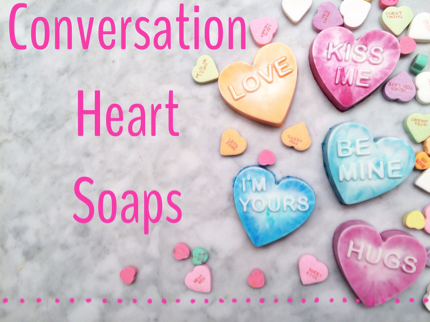 When I think of Valentine's Day candy, little conversation hearts are the first thing that comes to my mind (quickly followed by boxes of chocolates). I love the rainbow of colors they come in and the fun little sayings. So when I spotted this soap mold on Bulk Apothecary, I knew I had to make a bunch for the holiday!
Individually sized, these soaps are the perfect gift for all of the people you'd like to make feel special! I made mine in several different colors, packaged each in a clear cello bag, and tied them with ribbon.
These are easy and oh-so-adorable!
You Will Need:
Bulk Apothecary has a TON of heart-shaped soap molds! Check them out! They can be used for soaps, bath bombs, and even candy! We also offer a range of soap making supplies for any occasion or holiday that you want to present someone with a fun soap. Don't forget bath bombs and scented bath salts too for a great themed gift!
Start by chopping 2 lbs. of white melt and pour soap base into cubes. For my base, I used Goat Milk but you can use any white base you'd like.
Place the cubed soap in a microwave-safe bowl. Heat using short intervals and stirring in between until all cubes have melted seamlessly into liquid form.
Add in the fragrance oil and stir well to combine. For 2 lbs. of soap base, use 1-2 teaspoons of fragrance oil.
For my heart soaps, I decided to use two different molds. The conversation heart mold will make 5 soaps. You can either use more than one of this mold at a time (if you have multiple), or you can pour half of the mixture, allow it to set, de-mold the soaps and repeat the process.
I opted to use two different molds so that I could pour at the same time (I tend to be a little impatient and I didn't have multiple conversation heart molds). The second one I used (pictured here) is the silicone heart mold. I love silicone molds because it's so so easy to de-mold soap when using them!
For the conversation molds, I wanted each soap to be a different color. To do this, you can pour a small amount of the melted soap into separate containers and color prior to pouring. I wanted mine to look kind of tie-dyed with the color not completely mixed, so I poured the white base into the molds, added the color, and swirled it around each soap with a toothpick.
(Sorry for the messy pour job! I was working fast!)
For the remaining soap base, I colored it all a light pink, adding the color prior to pouring.
You can use mica powders to color or liquid soap colors. Both have a wide range of colors and depending on how much you use, the depth of the color will change. To blend mica powders into MP soap, mix the powder with a small amount of water and then mix the color into the soap as if it were a liquid.
Allow the soaps to cool and set completely before taking them out of the molds. Wrap each soap in a clear cello bag- they're too pretty to be covered up!
ENJOY!