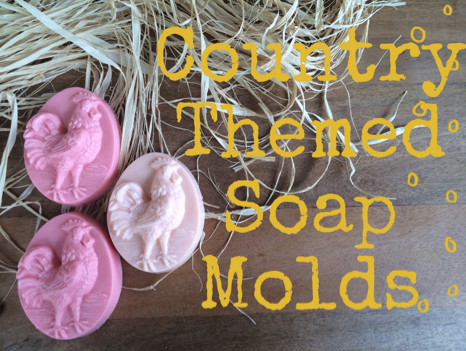 These soap molds are just too cute! Am I right?! Even if you're not a country girl (or guy) you can appreciate how adorable these little chicken soaps turn out. With the fall season in full swing and everyone decorating their homes with corn stalks and hay bales, I thought it was perfect timing to introduce you to these cute little country favorites!
Using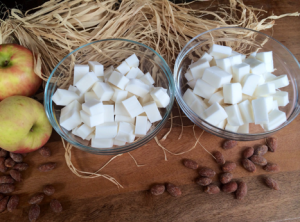 a simple melt & pour base, I made these in just a few minutes- and you can too!
I decided to make two different colors with my chicken molds so I divided my cubed soap into two separate microwave-safe bowls. If you're only making one color, or not color the soap at all, you can keep it all in the same bowl.
Ingredients:
Start by melting the cubed soap in the using short intervals and stirring in between until all the cubes have seamlessly blended into a smooth mixture.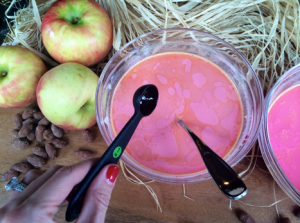 If you're adding color (like I did) you can do so by using a piece of a soap color block which will melt into the soap (just stir it together after you remove it from the microwave) or by using pigmented mica powders. Either soap color choice will add beautiful interest to your finished product. I was aiming for a pale red and an intense red, but you can see that my intense red turned out a little pinker. Oh well?
Now it's time for fragrance. For one pound of melt & pour soap base, I stirred in 1 teaspoon of fragrance oil (divided between each color). You can adjust this amount to suit your taste- just be sure to start with a small amount and continue adding until you've reached your desired scent.
I also had the Hen and Egg soap mold, which is completely adorable and goes along perfectly with my rooster soaps, so I poured a few of these too!
Carefully pour the soap mixture into the molds. If you see any air bubbles on the surface (you can see a few in the picture above) spritz the soap with alcohol after pouring. This will eliminate the bubbles for a smooth finish.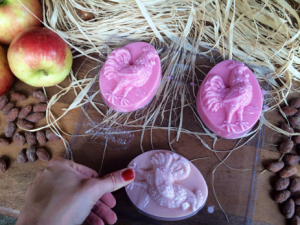 Once the soaps have completely cooled and hardened, flip the trays over and apply gentle pressure around the edges of each soap and across the center. The soaps should pop right out. If you meet any resistance, place the tray in the freezer for a few minutes before trying again.
And there you have it- the cutest little chicken soaps you ever did see. Haha. Aren't these great for fall? I think they're a nice escape from the typical pumpkin-everything that?s going on right now.
Color and scent them however you choose and share with friends and family.
They will love them!