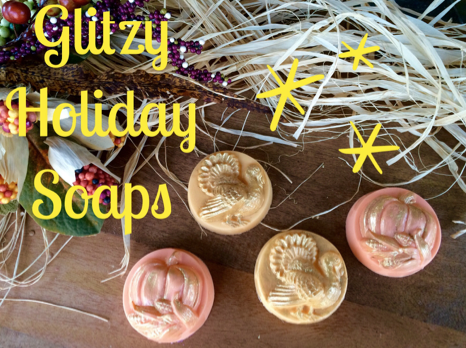 Hey Bulkers!
If you haven't noticed (or if you live under a rock!), the holiday season is in full swing! I'd like to say that we're all gearing up for Thanksgiving (because it comes first), but more and more Christmas decorations are popping up all over the place.
Nevertheless, we have a few more days of pumpkins and turkeys before it's all about Santa. Whether you're prepping for a huge holiday dinner full of turkey, stuffing, and pumpkin pie- or you're planning ahead for stocking stuffers, this recipe is a fun and easy way to make your holiday soaps a little more special for the season.
You can easily customize these simple little soaps by choosing festive soap molds, colors that are holiday-specific, and glitzy accents that make them sparkle.
I made gold-accented pumpkin and turkey soaps that will be perfect favors for my Thanksgiving guests!
What You'll Need:
Cocoa Butter Melt and Pour Soap Base, 1 lb. cubed
Goats Milk Melt and Pour Soap Base, 1 lb. cubed
Snickers Coffee Fragrance Oil– 1 tsp. per lb. of soap base
Soap Colors (optional)
Mica Powder (color of choice)
Here's what I did: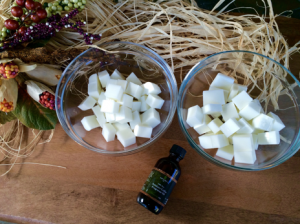 Since I decided to make two different colored soaps, I split my cubed soap base into two separate (microwave-safe) bowls. You can use any melt and pour soap base when using plastic soap molds so choose one that you prefer- I used Cocoa Butter and Goats Milk.
For my mold, I went with this adorable Thanksgiving-themed one. The turkeys and pumpkins are perfect for the holiday, don't you think?! You could also mix in the fall leaf mold if you're packaging more than one soap together- they're all wonderful! These molds are so easy to use and come in SO many shapes and designs! I love using them for the holidays!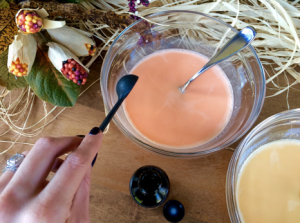 After melting my cubed soap bases in the microwave (use short time increments and stir in between until smooth), I removed each bowl and added the fragrance. If you are coloring your soaps you have a few options on products to use. You can simply add small pieces of soap color blocks to your cubed base while melting, you can stir in mica powders, or you can use liquid soap colors (they work kind of like food coloring-but for soap). I made mine a soft orange and a creamy yellow. For scent, I went with Snickers Coffee fragrance oil. It's warm and delicious smelling!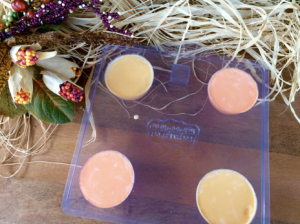 Carefully pour your prepared soap mixture into the mold and allow it to cool and harden completely. Once hardened, flip the molds over and gently press around the edges of each soap and then on the center of each soap. With the gentle pressure, they should easily release. If you're having difficulty, place the tray in the freezer for a few minutes and try again (the soaps should pop right out!).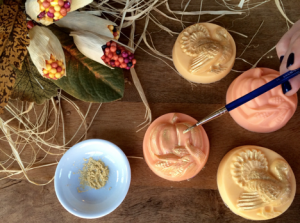 Here comes the fun part!
For my accent, I added gold sparkle mica powder to each soap. Using a water-based adhesive, brush a small amount to areas of the soap that you intend to add the powder to. With a small paintbrush, lightly dust the mica powder over the adhesive. Brush off any excess powder after the adhesive has dried.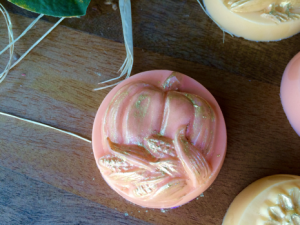 How's that for a little holiday glitz? Pretty, right?!
I didn't cover the entire top of each soap with the gold dust but rather picked a few spots and raised ridges to add interest to. You can do this with any color- not just gold. With tons of soap mold designs and lots of powder colors to choose from, the possibilities for fun decorative soaps are endless!
Get creative and have fun! Dress up your guest bathroom with sparkly holiday soaps, package up gorgeous favors for guests, and make stocking stuffers that will be a hit!
Enjoy!!