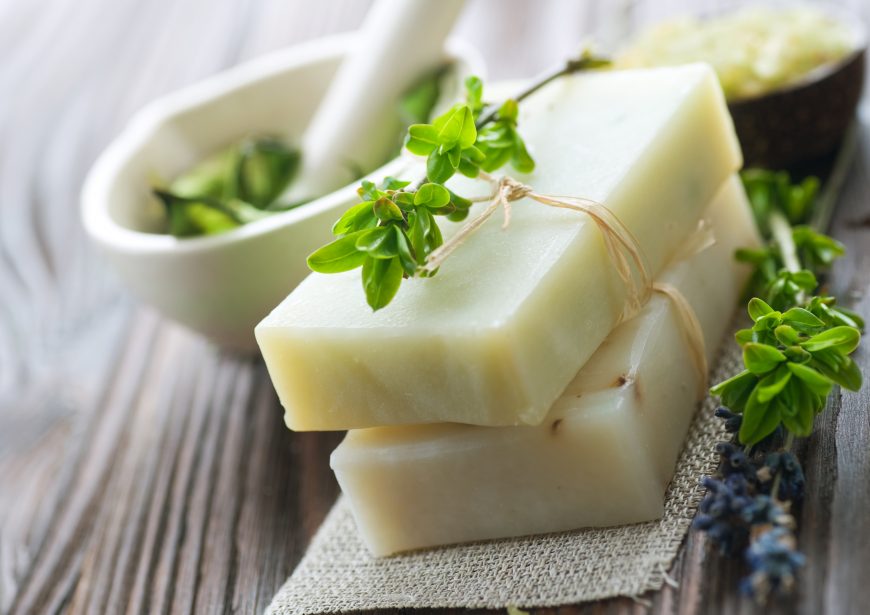 This Green Tea Eucalyptus Soap is not only easy to make, but also very pretty and impressive looking. So, even if you're not fully confident in elaborate fancy soap making, but still want the look of something a little more involved than a one-step melt and pour, this recipe is your ticket. The scents are soothing, and the green tea helps to gently exfoliate your skin while the goat's milk base nourishes and hydrates.
Ingredients:
Directions:
Start by melting the first half of the cubed soap base in a microwave-safe bowl using 30-second increments and stirring in between. Continue heating and stirring until the base is completely melted.
Remove the melted base from the heat source and blend in 5 drops of the essential oil.
Next, stir in the green tea. It should be drained, but not dry. The reserved liquid works to color the soap so make sure it's still saturated.
Pour into your prepared soap mold and set aside.
Now melt the second bowl of soap base and follow the above directions. Once melted, add in the remaining amount of essential oil and blend well (no tea in the layer!).
Pour the second mixture into the mold over the first mixture. The first layer should have started to solidify, but still be tacky on top to allow the second layer to adhere to the first.
Allow to cool and harden completely, about 4-6 hours, before removing from the mold(s). If you've used a loaf mold, cut the finished soap into 1-1.5 inch slices.
Make, and enjoy this refreshing soap, and keep on creating and experimenting with other wholesale ingredients, soap supplies, oils, and more.