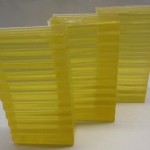 Did you know, Hemp oil has many benefits? Hemp soap bases can help fight skin inflammations, heal nasty bug bites, and moisturize all skin types. Using a hemp-based soap bar daily can help get rid of wrinkles, dry dull skin, and help your face look younger and firmer. Hemp oil contains omega 3 and omega 6, those fatty acids alone will work wonders on your skin. Why wouldn't you want to try this amazing bar? Below is a quick and simple recipe for my Hemp facial Bars. This soap bar is great for your face but also can be used as a body bar.
Ingredients:
Wavy Soap Cutter or Straight Cutter
Silicone Regular Loaf Mold/ or mold of your choice

Peppermint Essential Oil

– 1 Tablespoon
2 lbs Hemp Oil Glycerin Melt and Pour Soap Base (this makes 8 – 4oz Soap Bars)
Spray Bottle of Rubbing Alcohol
Directions:
Cut the Hemp Oil Glycerin Melt and Pour Soap Base into small pieces and place into a microwaveable safe glass measuring bowl.
Microwave for 30 seconds, stir and microwave again for another 30 seconds. TIP: Remember all microwaves differ, you might need to adjust the melting time.
Let cool for 3 minutes and add 1 Tablespoon of Peppermint Essential Oil. Stir until completely smooth.
Pour soap mixture into the Silicone Regular Loaf Mold. Spray top of the soap with rubbing alcohol. (this gets rid of any bubbles)
Wait a least 3 hours before removing from the mold. Place soap loaf into the miter box. Slice into your desired size. Tip: Prior to slicing mold, place in freezer for 15-20 minutes. This makes slicing your soap much easier
Your hemp facial bar is ready to use, it's light and airy texture will feel great on your skin. Within days you will begin to notice results.