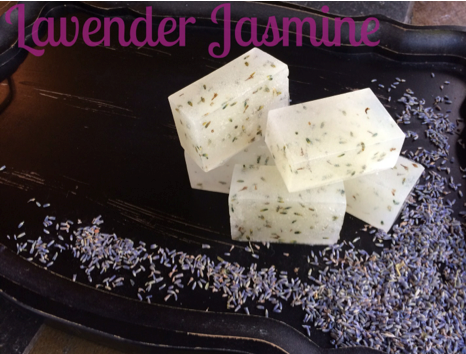 Guys- this soap is SOOOO pretty!!
When I was planning this recipe I wanted something sweet and feminine, and the result came out better than I expected!
The jasmine fragrance is soft and beautiful and the lavender buds lightly speckled throughout the clear base are visually stunning (my iPhone pictures really don't do this one justice!).
I packaged them up in clear cello bags and finished them with twine and printed tags for the perfect little girly soap.
You can make your own by following this easy recipe:
You'll need:
3 cups Suspending Stephenson Melt and Pour Soap Base
1 tablespoon Vitamin E Oil
1 teaspoon Jasmine Essential Oil
1 teaspoon Lavender Buds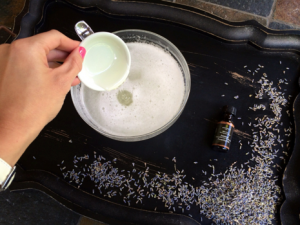 After melting the soap base in the microwave using short intervals and stirring in between, stir in the Vitamin E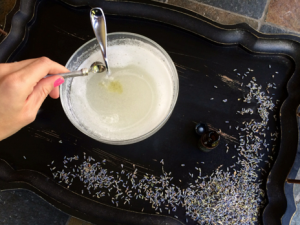 the Jasmine Essential Oil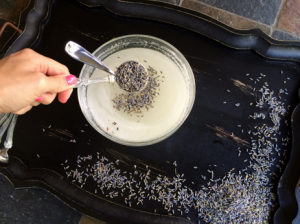 and the lavender buds. Less is more with the buds because you don't want them too condensed in the soap- just lightly speckled throughout. You can use up to 1 teaspoon, but I ended up using slightly less. Just like you would with a color pigment, add a little at first, stir them in, and then assess if you need to add more or not.
A little less than 1 teaspoon of buds looks like this all mixed in. It was plenty for the look I was aiming for.
?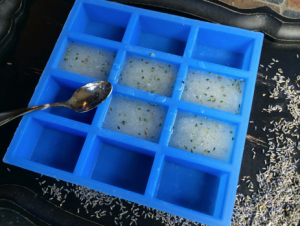 Carefully pour the soap into the molds that you've decided to use and allow the soap to cool and harden completely before unmolding.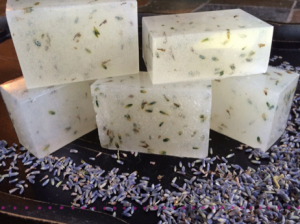 Gorgeous!!
These turned out exactly like I had hoped and I think a bar of this soap will look perfect sitting in a soap dish in my guest bathroom.
If you're making these as gifts, be sure to package them in clear packaging so that the recipients can see just how pretty they are! 🙂