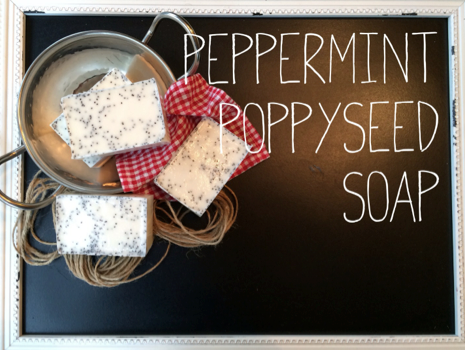 This soap is a breath of fresh air. Lightly scented with crisp, refreshing peppermint with specs of poppy seeds for soft exfoliation and a shea butter base that will leave your skin feeling soft and smooth. Oh yea, and I threw in a little vitamin E oil for added nourishment. Your skin will LOVE this one!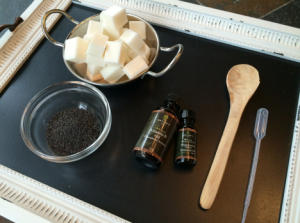 Here's what you'll need:
Start by prepping your soap base for melting. The base comes in a block so you'll have to chop it into small cubes prior to placing it in a microwave-safe bowl. Using 1-minute intervals, heat until the base is completely melted. It will look creamy and smooth and smooth.
Next, add in the vitamin E oil and stir to blend.
Now for the fragrance. I love peppermint fragrance in soaps because it leaves the skin with a crisp, clean scent and it really wakes you up!
Using a pipette, I added 1 full and 1 half pipette (filling only up to the bulb) for a soft, minty scent. You can adjust this to suit your preferences, but always start out with a small amount and add to it so that you don't accidentally add too much and overpower the soap.
Now add the poppy seeds to make it pop! 🙂
I used 2 tablespoons. Just dump them in and stir gently to blend the tiny specs throughout the mixture.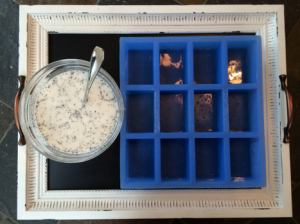 For the mold, my go-to is a standard silicone rectangular mold. You can use any type of mold you'd like to, but this one works well for me because, like today, I often make small batches and it can accommodate small AND large batches of soap.
My 1 pound recipe yielded 4 thick bars of soap. Once you've carefully filled the molds, let them harden for several hours before unmolding them for use.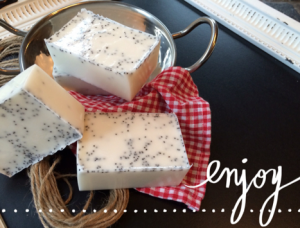 Aren't they pretty?! And the soft minty scent is exactly what I was hoping for 🙂
I hope you enjoy this recipe as much as I do!