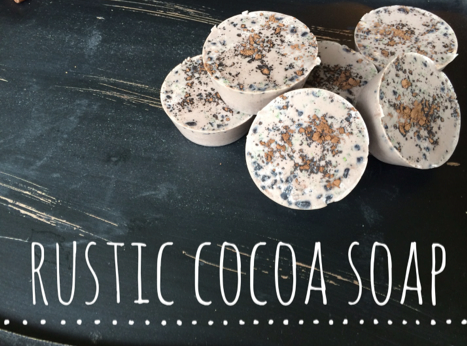 If the picture alone doesn't have you intrigued- this recipe smells of chocolate with hints of mint. Got your attention now?! It's so yummy you?ll be tempted to lick it (just don't 🙂 With a melt & pour base and a few simple steps, you can make this rustic, delectable soap in no time!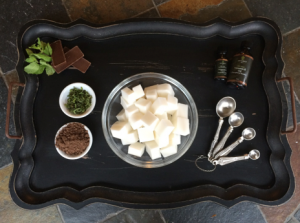 Ingredients:
Directions:
Start by melting the cubed soap base in the microwave until smooth (about 2.5-3 minutes)
Next, add in 1 teaspoon of Vitamin E oil for extra nourishment.
Stir well to be sure it's evenly distributed throughout the soap base.
Now for the chocolate! I used a dark cocoa powder which smelled AMAZING!
Just dump it in and stir it up.
It will take a little bit of work to incorporate the powder into the soap base, but it will melt in while you stir. You will have a few specks left that don't fully absorb into the mixture but that's okay! It lends to the rustic look of the soap 🙂
Fresh mint is wonderful for smell and texture.
Fold it gently into the mixture.
Now, you could stop before this step because the cocoa powder and mint DO add a light fragrance to the soap- but I want a little more punch with my mint fragrance so I used a little peppermint essential oil.
With a pipette, I added about 8 drops. You can adjust this amount to whatever suits your preferences.
That's it for the mixing! Carefully pour the soap mixture into the soap mold(s) you've decided to use. I went with a round, deep mold for a disc shape. I LOVE the ease of silicone molds. They're so simple to work with. If you haven't tried one, make sure you get yourself one!
Ta-Da!! I sprinkled a little loose cocoa powder on the top of the soap for added texture and interest. I love the way it turned out!
Now we wait.
Allow the soap to harden in the mold before removing it. Mine was ready after about 2 hours.
That's it! Wasn't it a breeze? I absolutely LOVE the way these soaps turned out. They smell delicious, look rustic and organic, and feel great on your skin.
Enjoy!