Rebatch soap base is pretty awesome.
If you've mastered the easy-peasy melt & pour bases, find yourself not quite ready to dive into cold or hot process soap making, but want something somewhere in between- this base will be your new BFF.
It's easy to work with (no-lye handling or safety gear required) and leaves you with a gorgeous, smooth bar of soap that lends to the rustic look- which in my opinion is oh-so-pretty.
For this soap, I used the sweet fragrance of white nectarine and paired it with a few dried rose petals for accent. With a subtle hint of sparkle from the mica powder, it turned out so beautiful!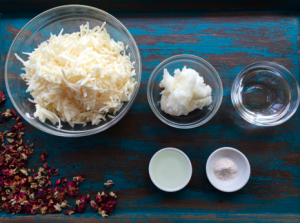 You'll need: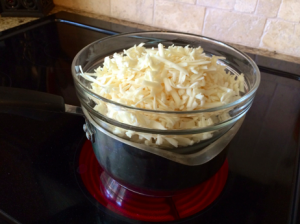 Begin by slowly melting down the soap base over medium heat using a double boiler or similar set-up (like I did here). While melting down the soap, mix in the coconut oil. With rebatch bases you need to add moisture back into the soap, so for this recipe, I used coconut oil as the primary moisture/liquid. As you stir the soap, add in water by the tablespoon, up to 1/3 cup, depending on how dry the mixture looks (I think I ended up adding 2 tablespoons to mine).
BE PATIENT!
Rebatch can take a while (20-30 minutes) to slowly meltdown. Stir occasionally while it's over the heat until it looks like…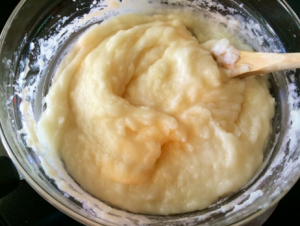 THIS!
When the melted soap looks like a batch of mashed potatoes, you're finished and can remove it from the heat and stir in the fragrance oil and mica powder.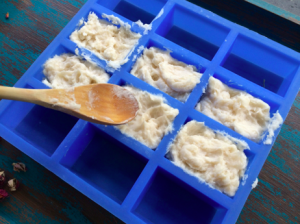 Scoop the soap mixture into the molds that you've decided to use. Here I'm using a silicone rectangle mold. For an organic, rustic look don't smooth the tops of the soaps. Leave each soap a little lumpy and disheveled.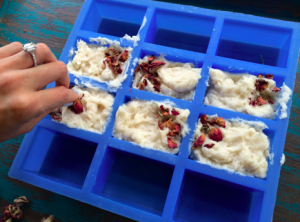 Gently press a few petals and buds into each soap and allow the bars to cool and harden for 24 hours before unmolding.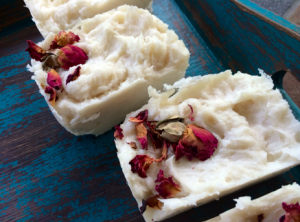 Aren't they lovely?
I'll be using mine for a decorative accent in the guest bathroom, so the petals are perfect, but if you'd rather it be a bar of soap that you stick in the shower- you can opt-out of the rose petals. Without the petals, you'll still have a beautiful, slightly sparkly bar of soap that will glide over the skin and gently lather.
I hope you enjoy it!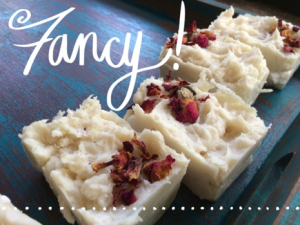 ---
Let us know if you try out this recipe or any others from our blog!
Looking for the best soap making supplies? Check out our website for melt and pour bases, molds, fragrance oils, butters, waxes, and more!
Bulk Apothecary is the best supplier of all things soap making!