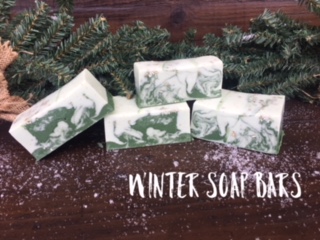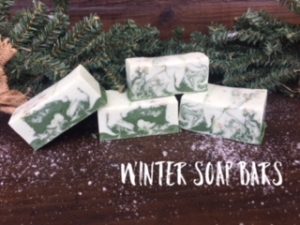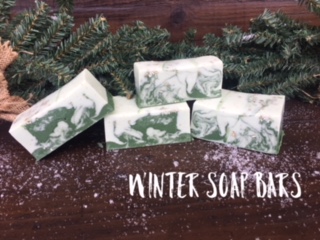 Winter Soap Bars
Winter has arrived! That fresh scent of the brisk winter air, combined with woodsy smells such as cedarwood and birch. The smell alone will have you feeling like you're walking through the woods. Plus, that earthly scent will instantly wake up your senses.
In this recipe, we will be combining 3 wonderfully-scented essential oils. Sweet Birch, Cedarwood and Cypress. This combination, along with oatmeal and shea with goat milk soap, will leave your skin feeling refreshed and rejuvenated. This recipe is perfect for dry winter skin, or for someone who just loves this combination of essential oils.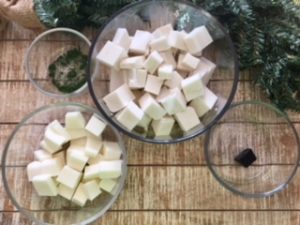 Let's get started!
Ingredients:
Oatmeal And Shea Butter Stephenson Melt and Pour Soap Base (Crystal OS) – 2 lb
Goat Milk Stephenson Melt and Pour Soap Base– 2 lb
(we will be using 1 lb, so you can save the rest for later)
Chrome Green Oxide Melt and Pour Soap Color Block
Matte Woodland Green Pigment Powder
Sweet Birch Essential Oil
Cedarwood Essential Oil
Cypress Essential Oil
Oats- ½ cup ( if desired)
Cut and cube soap bases into two separate microwave save bowls. Start melting the oatmeal and shea butter first. Melt at 35 second intervals. The oatmeal soap base has a speckled look, which I absolutely love. It gives each recipe its own added depth and looks great. The added exfoliating oats make it even better. Once completely melted, add ¼ block of the chrome green oxide melt and pour soap color block. If you'd like a darker green tone, simply add more to your liking. Melt for an additional 35 seconds. Stir until the color is completely blended. Add 7 drops/shakes of cypress essential oil and 9 drops/shakes cedarwood essential oil. Stir, and slowly pour into the silicone soap mold.
Melt the goat milk soap base and follow directions for heating times from above. FYI: Goat milk melts very quickly. Once melted, add ½ teaspoon of matte woodland green pigment powder (this powder is very rich in color, it will darken quickly). Stir until completely dissolved. Add 10 drops/shakes of sweet birch essential oil. Slowly pour soap mixture on top of first layer. Let mold set up for 5 minutes, then, using a knife or any kitchen utensil, make swirls designs into soap. Get creative here! Let your soap mold harden before slicing. Enjoy this outdoor woodsy scent. Happy soaping!