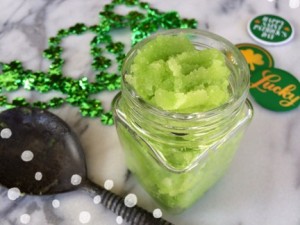 HAPPY ST. PATRICK'S DAY! Well on March 17th it will be…
Even if you're not Irish, you can join in on the festive fun with this simple recipe.
Packed with nourishing natural oils, sugar to gently exfoliate dry skin, and a vibrant green color just for the holiday- everyone's sure to enjoy this one!
You'll need:
Step 1: Combine all of the oils with the sugar in a large bowl.
Step 2: Add in the fragrance oil.
Step 3: Stir in soap color and mix well to combine all of the ingredients.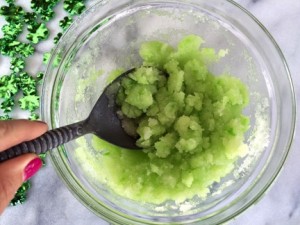 You can adjust the intensity of the color. I wanted mine to be bright and moderately pigmented. Start with a small amount of color, mix well and then reassess if you need more. Repeat until you've reached your desired color.
Scoop into a lidded jar and enjoy! To use simply massage over damp skin and rinse with water.
This recipe can easily be doubled for a larger batch- which makes it perfect for gifting- and altered with fragrances to make it specific to your taste.
It's fast, easy, and will leave your skin glowing!