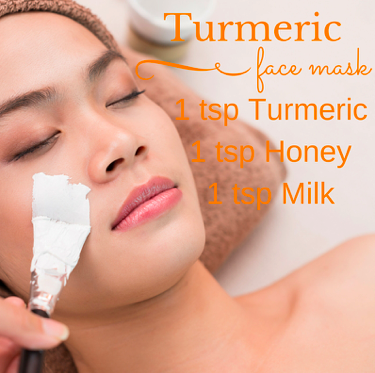 Looking for a simple DIY recipe for glowing skin? Look no further! This easy face mask only require 3 ingredients and can be used to enhance glow, soothe rosacea, acne and eczema and diminish the appearance of dark circles under the eyes.
What makes it so great?
Turmeric is a wonderful anti-oxidant. It's also packed full of anti-inflammatory and anti-bacterial qualities. All great for the skin. Combined with honey, which moisturizes and milk, which exfoliates this mask is a winner for any skin type. And you probably already have most of the ingredients (turmeric, honey, and milk) in your kitchen!
To make:
Combine ingredients in a bowl, making a paste. You can adjust the consistency of the mixture by adding more milk, but you don't want the mask to be too thin. Apply the mask evenly to a clean, dry face. Allow the mask to dry completely (about 20 minutes) before rinsing off with cool water. Pat skin dry and apply your favorite moisturizer. Repeat the mask as needed.