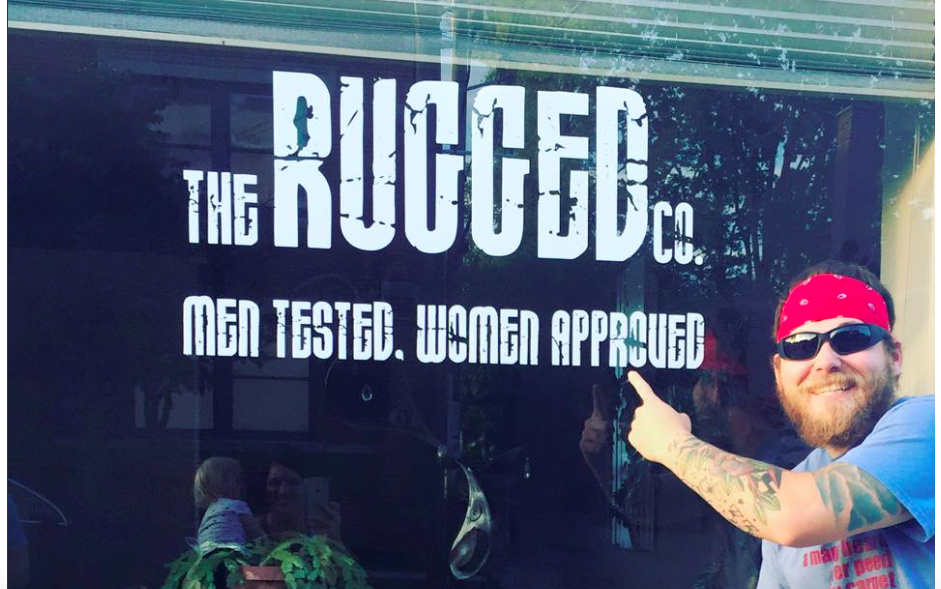 [Case Study] How One Bulker Uses Instagram To Sell 10,000's of Products A Month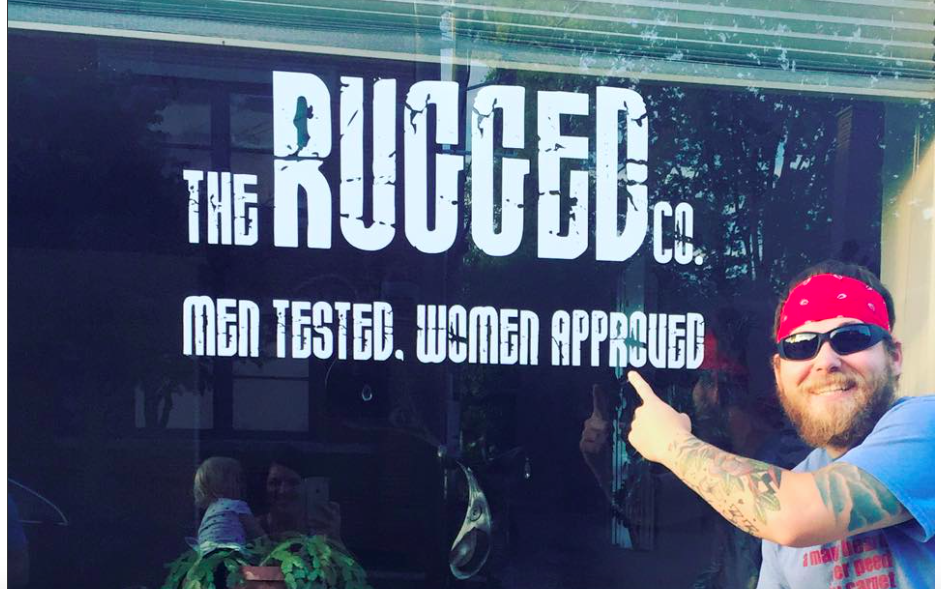 In Napkin To Shelf Case Studies, Afif Ghannoum interviews and deconstructs successful product entrepreneurs, extracting their best strategies and tools that you can use to help you succeed in launching and creating successful products. He also happens to be a Bulker who's launched over 10 products that have sold in 27,081 stores including Walmart, CVS & Target.
In this Case Study, Afif interviewed Corey Cole, founder of The Rugged Company…  
The Rugged Company specializes in creating products for men ranging from beard oils and soaps to jeans – and even coffee. All of the company's products are handmade and are priced so that the everyday working man that's just trying to make ends meet can afford them.
Corey also happens to be a Bulker, and buys all of his essential oils, bases, molds and waxes from Bulk!
The Company was founded by Corey Cole, a former Angie's List salesman who had $100,000 in student debt, a child on the way and a start up budget of $200.
This case study shares Corey's product launch story….and breaks down exactly how Corey went from selling ten bottles (all he could afford to make), to selling tens of thousands of units a month…using the power of social media – all in a little over 16 months. 
WHAT INSPIRED COREY TO CREATE HIS FIRST PRODUCT? 
Since the age of 12, Corey has always had a beard. He also has psoriasis and one day after coming across a beard oil, he wanted to see if it was something worthwhile trying, but was instantly turned off when he saw that a small bottle cost $70.
That seemed ridiculous, so he thought "Why can't I just make one myself?"
ONCE HE FOCUSED ON BEARD OILS, HOW DID HE ACTUALLY CREATE THEM?
After reading about the potential benefits of beard oil, he took a class on essential oils, looked up some beard oil recipes and started working….A LOT.
Over the next seven months, Corey would come home from work and stay up tinkering with various concoctions…..some nights he was up until 4am working away in his kitchen.
70 recipes later…..he finally had a beard oil that hit all the right notes.
Once he had a recipe in hand, he started asking friends to try it.
The response was so positive, he knew he had more than just a great beard oil…he thought he may actually have a business in the making.
HOW DID HE START SELLING HIS BEARD OIL? 
After leaving Angie's List to finish a degree and pursue his beard oil aspirations, Corey was high on inspiration, but decidedly low on startup funding….he had exactly $200 to dedicate to launching his first product called Steel beard oil.
With his budget, Corey had enough to buy ingredients to make ten bottles of product.
He started selling by telling people about his oil through social media, and slowly but surely he sold all ten bottles.
Once he sold those ten, he used the money he made to buy ingredients to make more product. Over the next 16 months he sold over 90,000 bottles of beard oil.
HOW DID A BEARD OIL TURN INTO THE RUGGED COMPANY?
While his beard oil was undoubtedly taking off, Corey was well aware that if he was going to create a sustainable business, he was going to have to expand beyond beard oils, which could go away over night if beards fell out of fashion.
It was at the mall with his wife he noticed that while there were dozens of stores focused on women, there were really no personal care stores that solely focused on guys….and it hit him, "why can't I create a company that created products just for men?"
Newly inspired, he started creating other products and within a few months The Rugged Company grew to selling 32 different types of products, ranging from personal care items to a line of jeans.
In fact, one of his biggest sellers are his soaps – goat's milk based with activated charcoal and essential oils. Corey sells about 3000 bricks of soap a month.
The key to his products' vibe is that while he aims to make each of his products feel "manly", none of them are overpowering. He's noticed that a number of women have started to buy his products for themselves, after initially buying them for their husbands.
HOW DOES COREY SPEND HIS DAY?
A dad first, Corey stays at home with his daughter Addie. During the day, in between playing with Addie and keeping up the house, he's constantly on social media and doing administrative work for the company.
He'll also strap Addie into the car and meet with potential retailers who've reached out to him about carrying his products.
While most love the fact that he brings his daughter along, he's had a few that have commented on the fact he brought a child to a meeting.
Corey's response?
He refuses to sell to them. His family comes first, and if they have an issue with his "assistant sales manager," then they're not the right fit for The Rugged Company.
Once his wife gets home at 3pm, he switches gears and begins production work; churning out oils and soaps, and dealing with his supplier in Los Angeles who makes his clothing line.
HOW COREY LEVERAGES INSTAGRAM AND FACEBOOK INTO MAJOR SALES: 
So far Corey's gotten distribution in a couple dozen stores.
He does all his own selling and promises each retailer exclusivity in their area.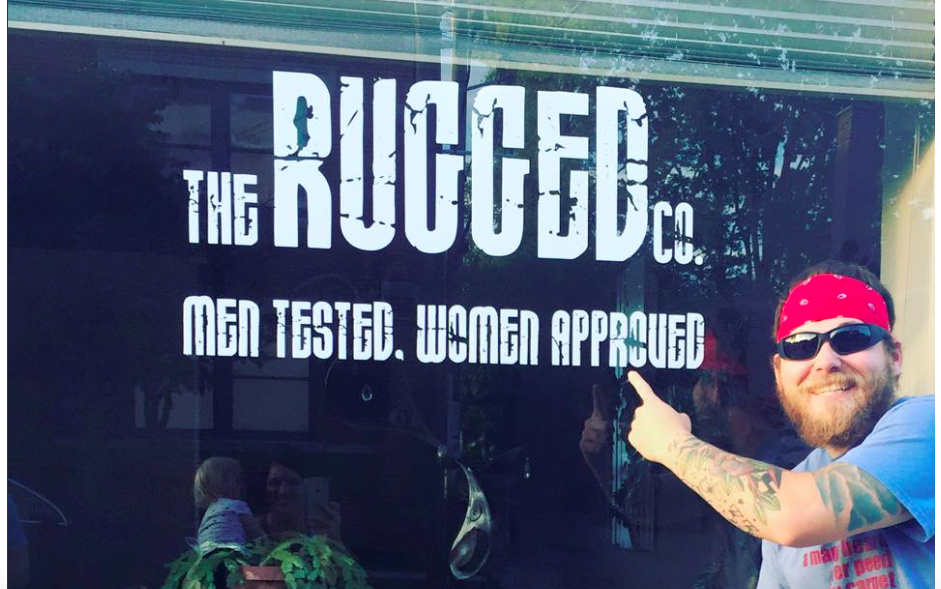 He also has his own store front.
The real genius to how Corey has grown so fast has been his use of Instagram and Facebook.
He read an article about the potential power of Instagram and how to go about boosting your presence on the social platform. Corey started methodically growing his presence until he had over 15,000 followers, who now buy thousands of products from him each and every month.
His total budget to grow his following and sales through Instagram? $0.00.
COREY'S INSTAGRAM STRATEGY:
His approach to Instagram posts is to highlight something personal about a product. As an example, he posted a picture of his beard oil Steel, and explained the origin of the name was the impact of the steel industry on his home state of Indiana.
After he shares a little something about the story behind a picture, he often ends a post with a "Call to Action" asking his audience to buy a bottle by clicking on the link in the bio of his Instagram page (Instagram does not let you put links on individual posts).
Corey emphasizes that the quality of the pictures he uses is key.
Next, he tries to post a picture every four or five hours….and he's found the best time to post is 8pm.
Now what's the true secret to growing Instagram followers? 
HASHTAGS, HASHTAGS, HASHTAGS!
Corey combs through Instagram for every beard related hashtag and spends 2—4 hours a day just commenting on other people's posts.
COREY'S FORMULA FOR GROWING HIS INSTAGRAM AUDIENCE:
After hundreds of hours dedicated to his Instagram account, Corey's found a pretty simple formula for growing his audience:
If you "like" 5 pictures
And you "comment" on 3
You will gain a Follower
The key is that you have to know your audience.
He sticks with commenting on posts that have between 5 and 60 Likes…Any bigger than that, his comment or "like" is likely to go unnoticed.
While building his Instagram audience hasn't cost him any money, it does cost him a substantial portion of his day.
He estimates he spends  6 to 7 hours a day on social media.
HOW TO USE GIVEAWAYS TO ACCELERATE YOUR INSTAGRAM GROWTH: 
While Corey sticks to working his audience every day through liking, commenting and posting, he also credits giveaways as being a huge part of his success.
Specifically, group giveaways.
Corey partners with companies complementary to his that offer products his audience is also likely to love.
As an example, he just did a giveaway that was $1000 in value between The Rugged Company, a knife maker, and a cleaver restorer.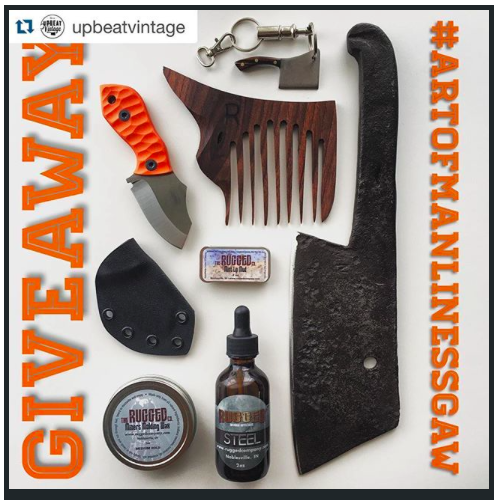 The result?
He gained 200-300 followers from the giveaway, the vast majority of whom have stuck around.
THE CRITICAL FORMULA TO MAKING INSTAGRAM GIVEAWAYS WORTHWHILE: 
Corey emphasizes that the key is that every giveaway has to be worth your time.
In order to participate, each user has to:
"Like" the post
Share the post
Tag two or three friends
Repost the post (using the App "Repost")
Do one post per day per person
Corey will also create a hashtag specific to the giveaway that people must use.
As an example, for one giveaway he used "#TheArtofManliness" after realizing no one else had used it.
He then listed every user that had used the hashtag, confirmed they had met the other rules of the giveaway and then picked a random winner.
COREY'S FACEBOOK STRATEGY:
While Corey leans heavily on Instagram, he still leverages Facebook to engage his audience, and more importantly….sell product.
While he focuses on pictures through Instagram, he's had a lot of success reaching a wide audience through videos on Facebook. 
In fact, each video he posts gets between 10,000 and 15,000 views.
But that doesn't mean Corey's doing anything very fancy in the way of video production.
A typical video may be a quick product highlight, or just a quick video of himself…like the video he posted after his daughter accidentally shaved eight inches off his beard when she got her hands on his beard clippers.
But even on Facebook, pictures have paid dividends for The Rugged Company.
One of his biggest pictures was a simple snap he took from behind the counter of his daughter sitting in the store.
He added commentary which highlighted that when you buy from The Rugged Company, you're putting diapers on his daughter, food in her belly, helping him put her in dance class, and allowing them to pay their mortgage bills.
That picture generated a tremendous amount of goodwill and 32,000 views.
THE EQUIPMENT COREY USES ON A TIGHT BUDGET: 
From day one, Corey has kept a tight hold on the company purse strings.
As a result, while he has occasionally used a photographer for some images, the vast majority of pictures and videos he posts are created on his cellphone.
His biggest upgrade came when he purchased a $20 lense that he could slide over his phone's camera for increased quality.
Only now, after reaching a level of comfort that The Rugged Company is here to stay is he about to buy a DSL camera. "It will be a cheap one," he emphasizes.
He's also going to pony up for an entry level GoPro to improve his videos.
His key piece of advice: It doesn't take a lot of money or fancy equipment to get a lot out of social media. 
HOW MUCH HE'S INVESTED IN THE RUGGED COMPANY:
While many people think you have to invest a tremendous amount of money to get going, Corey is a sterling example of how far you can get with very little capital.
He has grown his company completely through sales growth….and has zero debt.
Every single dollar invested into the company can be traced back to the original ten bottles of beard oil he created and sold on a budget of $200.
His advice to budding product entrepreneurs? There's no reason you can't start a business for a few hundred dollars that could literally change your life.
If you think money's tight, look around and see what you're spending it on…because there's likely somewhere you could cut out and apply towards starting a business.
WHAT HE WOULD DO IF HE STARTED ALL OVER? 
The one thing Corey wishes he had done a little differently upfront was spend more time on product research. He knew he wanted to make a beard oil, but didn't realize just how many other companies there were.
He quickly realized it was a very crowded field, but knowing himself to be a "do it now and think about it later" type of person, he took a leap of faith and went for it anyway.
While it's worked out, he's well aware that he partly got lucky, and next time around would spend a lot more energy on making sure his product had a way of standing out in the market before launching.
WHAT WAS HIS BIGGEST CHALLENGE?
Hands down, his biggest challenge was actually getting people to buy his products at first.
He believes it ultimately came down to his own confidence, which convinced people he had the best product, used the best oils, and had the best price.
He challenged people to compare his product and price to the competition. Slowly but surely, sales eventually started going and the rest is history.
TOOLS COREY RECOMMENDS: 
WHAT'S NEXT FOR COREY AND THE RUGGED COMPANY? 
In the next few weeks The Rugged Company will be expanding into the UK.
He ultimately wants to be in a larger building, which would allow him to bring all his manufacturing under one roof (including his jeans, that are currently made in LA).
He also plans to expand his distribution beyond social media and into 10-15,000 boutique stores across the US and UK.
I think it's safe to say that Corey will likely hit all of his goals and more!
So how can you apply this case study to your own products?
While you consider that…if you're serious about taking your product entrepreneur journey to the next level, get the 9 step checklist I used to launch over ten products and sell millions of dollars worth of products online and in 27,081 stores. Download it for free HERE 
Afif Ghannoum is the founder of NapkinToShelf.com. He is a formerly frustrated lawyer, that has launched over ten products that have sold in 27,081 stores. Afif also has two patents, licensed technology to a large pharma company for a product sold in tens of thousands of stores in multiple countries, and has raised $8,914,067.75 (and Counting) in venture funding. You can download his 9 Step checklist that includes the same steps he uses to create and launch his products for free HERE.