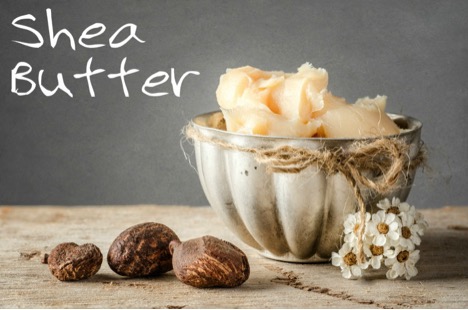 If you've dabbled at all with organic alternatives to lotions and creams, or tried your hand at making your own, then it's more than likely that you're familiar with Shea Butter.
Shea Butter is a solid fatty oil derived from the nuts of the karite trees in west and central Africa. When the nuts are harvested, they are crushed and boiled to extract the shea butter within- which is rich in Vitamin A and several fatty acids that help the skin retain moisture and elasticity, making it wonderful for use in lotions, soaps and cosmetics.
With properties proven to be moisture rich and beneficial for skin healing, this amazing butter is quickly becoming a household necessity. Below are some of the many benefits and uses of Shea Butter:
Benefits
Contains vitamins A, E and F
Highly moisturizing and skin softening
Calms irritated skin
Natural SPF and sunburn relief
Anti-inflammatory properties that ease aches and pains
Soothes and heals burns
Relieves joint pain
Natural hair conditioner
Restores skin elasticity
Fades scars, stretch marks and dark spots
Soothes eczema, dermatitis, psoriasis, burns, and wounds
Protects skin from free radicals
Eliminates shaving bumps
Anti-aging
Uses
Moisturizer (alone or in a mixture)
Scar and stretch mark cream
Salves and Healing Balms
Soaps
Shampoos and Conditioners
Itch relief from insect bites
Natural sunscreen
Lip balms
Shaving cream
Diaper rash cream
Wrinkle treatment
Natural teeth whitener
And those are just to name a few!
How do you use your Shea Butter? Let us know!
Shea Butter Benefits and Uses