Soy Pumpkin Candles– If you recall, I previously shared my package from Bulk Apothecary that I recently received. It looked like this: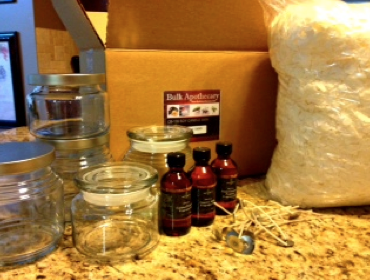 Exciting, right?! I mean, look how big that bag of soy wax is! Which leads me to this post. After making my first batch of candles with the country apple fragrance from this shipment, I ventured on to the caramel pumpkin and sweet cinnamon pumpkin fragrance oils. Yep, it was a pretty productive day!
Directions:
I started the process in the exact same manner by melting one pound (about 5 cups) of my soy wax candle base over medium heat in my makeshift double boiler (hey- it works just as well as the real deal!).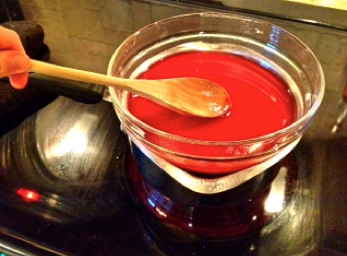 Then I got fancy. I colored my first batch (the sweet cinnamon pumpkin-scented one) with a little bit of the red candle color block (you can see me doing this in the picture above) and later, I colored the wax that was for the caramel pumpkin candle with a little bit of the pumpkin candle color block for the orange color. Now, in the picture above, the red appears pretty red- but once it cools and sets, the color is actually pale. I did this on purpose to go with the rooms I would be using the candles in, but you can make your candle colors are light or dark as you want to by adjusting the amount of the candle color block that you use. After the color block melted and blended evenly, I removed the melted wax from the heat and stirred in one ounce of fragrance oil to each batch.
With my pre-prepped jars ready to go (remember, use a glue dot to stick the wick base to the jar), I  stabilize the wick with a pencil, popsicle stick, skewer, or candle tool. I carefully poured my finished wax mixtures into the jars and allowed them to cool and set before removing the skewer and trimming the wicks.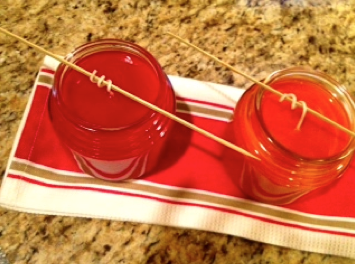 Tips:
Remember to allow your homemade candles to set for at least 24 hours before use.
Tada!! Aren't they pretty? You should make some too!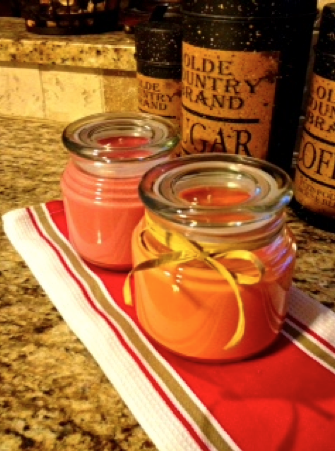 Soy Pumpkin Candles-Ingredients
1 pound Soy Candle Wax
1 ounce Fragrance Oil (I used 1 ounce of each fragrance in two different 1 pound batches)
8-ounce jars (3 for each pound of wax)
Candle Color Blocks– as little or as much as you would like
Double Boiler or similar set-up
Wooden Spoon
Hot glue or glue dots
Pencils, popsicle sticks, or skewers
---
Let us know if you try out this recipe or any others from our blog!
Looking for the best candle making supplies? Check out our website for candle wax, molds, wicks, fragrance oils, jars, and more!
Bulk Apothecary is the best supplier of all things candle making!
Bulk Apothecary makes no claims of "expert status" and the company will not be liable for any losses, injuries, or damages from the use of the information found on this website.
As with all products, users should test a small amount prior to normal extended use. If pregnant or suffering from illness, consult a doctor before use.