How about homemade exfoliating soap slices?! The best of both worlds combined in one! A sweet-smelling soap for a great lather, along with the extra exfoliating benefit of the loofah, in slices ideal for only a few uses. Perfection! The inspiration came from the one and only Martha Stewart (the original DIY queen), but this recipe is purely Bulk Apothecary. With our luxurious, moisturizing soap base, pure essential oils, and beautiful botanicals- you'll never miss the days of the plain, old loofah!
Ingredients: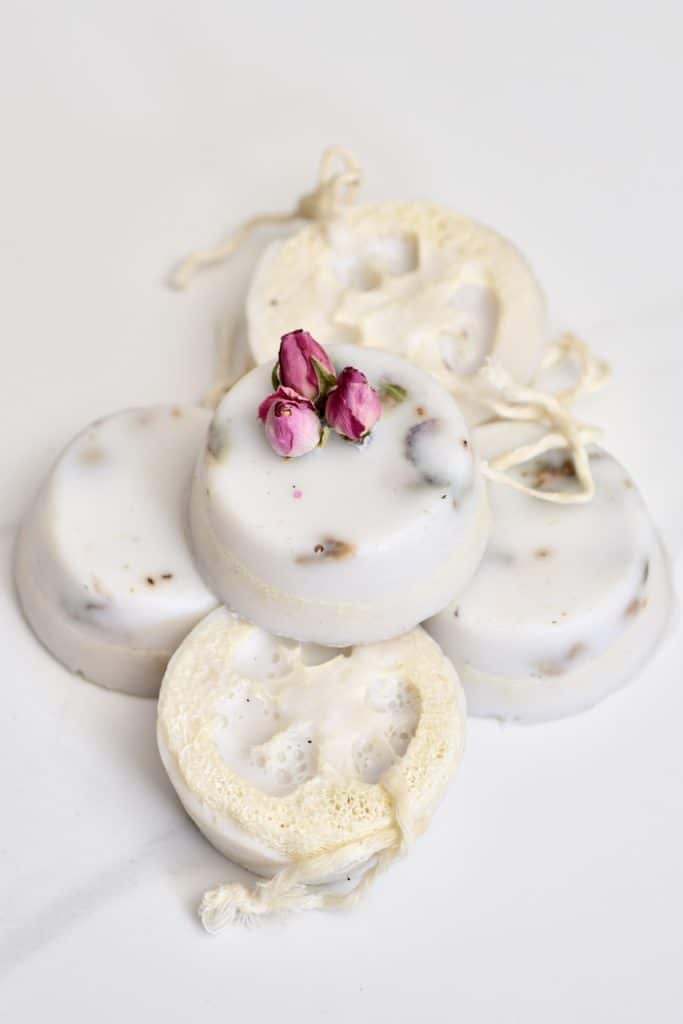 Steps:
Cut the sea sponges into one-inch slices using a serrated bread knife and place one slice in each round soap mold (you can also use tart tins or tart dishes to make these).
Chop the soap base into small cubes and melt slowly using a double boiler. You can also do a speedier version by microwaving the soap base in 30-second increments (stirring in between) until melted and smooth.
Add the essential oils and flower petals last, stirring to incorporate all ingredients.
Pour the soap mixture over each sponge slice, covering completely.
Allow the soap to rest overnight before freeing from the molds.
Use:
Enjoy the creamy lather and exfoliation the next time you hop in the shower.
Once the soap has been used and the sponge is exposed, toss it out and reach for another!
These exfoliating soap slices are handy and so pretty!
Display them in your bathroom until you're ready to use, they're sure to leave your guests talking!
---
Let us know if you try out this recipe or any others from our blog!
Looking for the best soap making supplies? Check out our website for melt and pour bases, molds, fragrance oils, butters, waxes, and more!
Bulk Apothecary is the best supplier of all things soap making! 
Bulk Apothecary makes no claims of "expert status" and the company will not be liable for any losses, injuries, or damages from the use of the information found on this website.
As with all products, users should test a small amount prior to normal extended use. If pregnant or suffering from illness, consult a doctor before use.