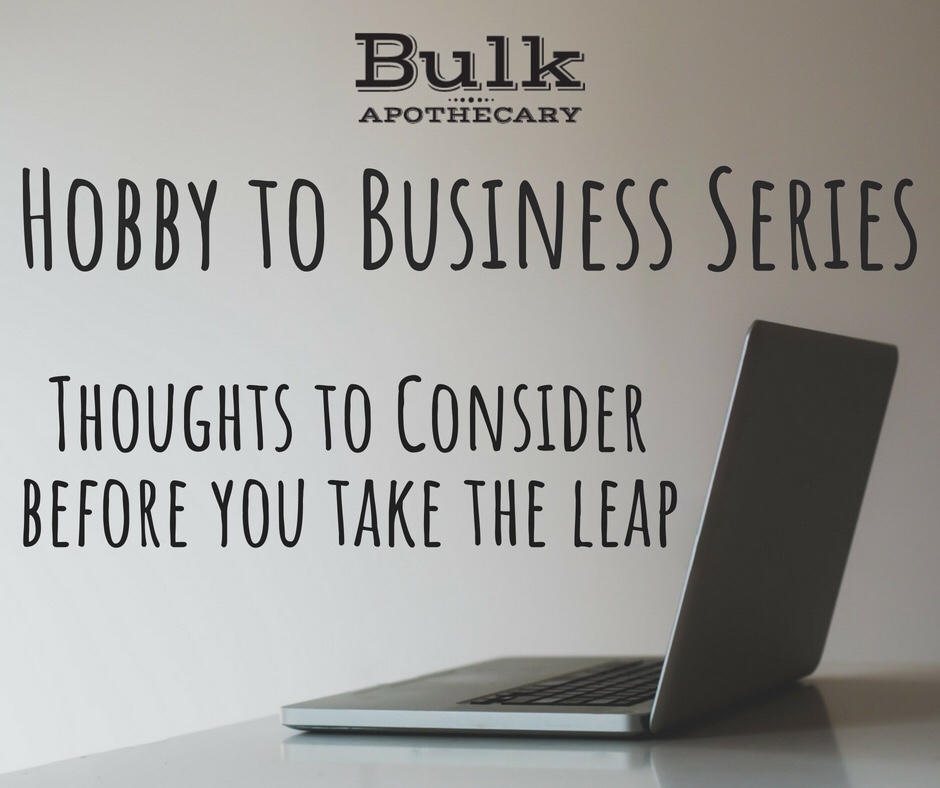 Welcome to the third edition of our series covering everything you need to know about turning your hobby into a business. Preparation is key in almost any endeavor, and starting up a business is no different. Whenever I hear success stories of small businesses gone big, sometimes it seems too easy. Like how Jeff Bezos started Amazon out of his garage, or how Warren Buffet used his savings as a young man to purchase pinball machines to generate money to invest. Let's be realistic – they are most definitely the exception to the rule, but that doesn't mean you shouldn't turn your passion into an opportunity for extra income or perhaps even you main source of income.
The common thread here is planning. Successful businesses aren't built on luck, they are bright ideas transformed into real action with forethought and the ability to adapt as unexpected obstacles arise. This week's article is all about taking the time to think about what really goes into planning the launch of a business. We'll provide you with some questions to consider as you begin to plan out how you can turn your hobby into a business. As you read through I recommend writing down your answers to these questions so you can begin to plan the next steps for your venture. This article is really meant to help you consider all the variables of a business and each topic will be explored in depth over the coming weeks with the goal of helping you build a business plan that works for your vision.
What will you sell?
Will you be selling one item in a variety of fragrances or does it make more sense for you to offer a variety of products with a handful of tried and true fragrances? Think about the time it takes to make each item, the packaging you will need, and your ability to maintain a consistent supply.
How is your product a representation of yourself?
It is important to offer a product that is unique in its own way. With the recent boom of DIY projects thanks to the ease of sharing via social media, the soap and handmade product market may easily become oversaturated.
What sets your product apart from the others? Is this idea yours, or a copycat version of someone else? How long have you been working to master this technique? How does your product incorporate your personal vision and values? This is YOUR brand! The only boss here is you. So, I encourage you to write down feelings and thoughts you would like your products to convey to customers.
Example: I personally do not include Palm oil in my cold process soap recipes. The reason for this is because the use of Palm oil contributes to deforestation. I am willing to sacrifice a cost-effective ingredient for a value I wish to carry through into my end product. A customer who shares the same values about the habitat would be more likely to buy my soap than one that contains Palm oil.
Identify and define your market.
You must market your product to the correct audience. Too often in our industry, marketing is nothing but a shot in the dark. What this means is that a one-size-fits-all approach will usually yield less than satisfactory results. To avoid wasted time, effort, and energy, you must really sit down and get honest with yourself about one thing: Who would actually want to spend their hard-earned money on my product and why?
Say your product line contains nothing but all-natural ingredients. Your soaps are lightly fragranced with organic essential oils. Instead of plastic packaging, you use recyclable cardboard bands to package your soap. Once you know your vision, you are ready to determine who are your ideal prospects.
There are several types of customers who may be interested in these soaps for a variety of reasons. Maybe someone gravitates toward this product line because they have just been introduced to essential oils and wants to try them in soap. Perhaps another customer prefers this type of product due to a skin sensitivity. Another potential buyer may pick up a bar just because it smells pretty and they happen to like handmade soap. Someone else may buy your product to support local business. You must keep an open mind and consider many factors when marketing your product.
Where will you sell your product?
Many customers have great success selling their products strictly online. There are many platforms via Shopify, Etsy, Facebook Marketplace – the list goes on. Other crafters keep operations small and only sell to friends and family. Are there flea markets in your area? When was the last time you popped into your local Mom & Pop shop? You may be surprised how just a little bit of networking in your community will greatly benefit not only your business, but your expertise, as well. It is important to know what's selling on the market. Meeting with other crafters and small business owners will lead to opportunities for learning, troubleshooting, guidance and support.
Example: I went to a local flea market last summer and sold soap sample bars for $1.00 each and made out like a bandit. A few booths over, someone was selling their handmade soap at a much higher price point (with no samples available) and her booth didn't get much traffic. Of course it varies by region, but this crowd did not strike me as the type to pay $13.00 for a bar of handmade soap. For this endeavor, I was able to generate more sales in volume by offering a lower price point to fit the economic spending tendencies of those patronizing a flea market.
How do you actually make money?
How do you factor cost? You've mastered small batches but how do you scale up? A lot of people forget to factor their time in when trying to determine their cost. These are just a few things to consider when determining how much you should price your product. Take some time to think about the savings you will see when buying in bulk. Yes, you will have to spend more up front, but ultimately that will mean you earn more for every product sold. Can you scale up your recipes without compromising quality? Will you need help and can you afford it?
Example: My first go at selling product was very exciting. I've been making cold process soap for gifts and honestly just for fun for a few years now when friends and coworkers began asking if the could buy some. It doesn't get much easier than that! I was more than happy to accommodate and began taking orders. I created a spreadsheet to factor my costs, determined my price and began making the soap. Shortly before I was ready to deliver I realised I needed packaging and labels! I had not put much thought into it until this point and had already agreed on a price to everyone who was interested. I found myself scrambling to find options that suited the vision I had for my products, but wouldn't eat all of the profit I thought I would be making.
In Conclusion
These are just a few small bullet points to get you thinking about what it takes to move from hobby to business, so if you've taken some time to write down how you may want to handle these I encourage you to keep your answers and add to them as your move forward towards your goal. Each topic will be explored in greater detail in the future to help you fine tune your business plan and launch into a new opportunity.