Botanical Bath Bombs Recipe
After the overwhelmingly positive response we've received from our Bath Bomb Ornament tutorial, I wanted to do a similar recipe, this time using botanicals as part of the formed bath bomb. Since this recipe calls for soap molds rather than classic bath bomb molds, it is a great way for the beginner to become familiar with formulating bath bombs, without worrying about pressing each side of the bath bomb mold together. Make these for yourself or someone you love and treat them to a homemade spa-like experience! Rose petals floating in the bath water is sure to make you feel like royalty. PS Check out our ready-made Madly in Love bath bombs – these can also give you the same experience without having to do the work! 🙂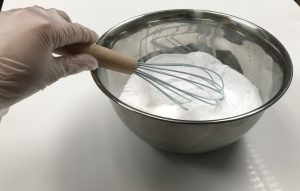 Here's what you'll need:
1 C. Sodium Bicarbonate (baking soda)
1/2 C. Citric Acid
1 t. Arrowroot Powder
1 t. Bentonite Clay
10 – 30 drops Japanese Cherry Blossom (Our Version Of) fragrance oil
1 t. Sweet Almond Oil
Spray bottle of Witch Hazel
Large bowl
Large spoon or whisk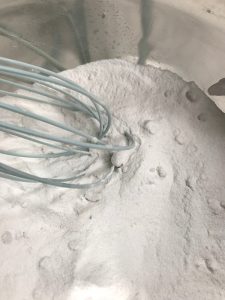 Combine all dry ingredients in a large bowl and mix thoroughly using a whisk, large spoon or your hands. Be sure to get to the very bottom of the bowl to incorporate all ingredients. I chose to use bentonite clay because it is believed to be abundant in minerals and serves as a way to remove toxins from the skin. The arrowroot powder will serve as an agent to help keep the bath bomb hard and sturdy. Alternatively, you may use cornstarch or cream of tartar.
After the dry ingredients are mixed and you begin to add in the fragrance and oil, you will notice small clumps forming. Spritz 10-20 sprays of witch hazel at a time while working through with your hands. Keep mixing thoroughly until the texture of the entire batch is that of wet sand.
Prepare the mold by lightly placing small pinches of the botanicals in the heart cavities. Be careful not to overdo it – we still need surface area for the bath bombs to adhere.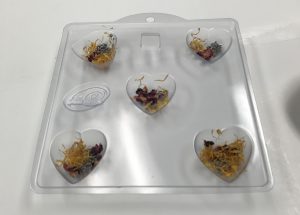 Firmly pack the bath bomb mixture into the cavities. Allow to set for ten minutes, then carefully flip over onto a hard, flat surface. I prefer to do it on a baking sheet so I don't get crumbs everywhere.
Allow the bath bombs to dry for at least 24 hours, and be sure to enjoy! <3