I wanted to incorporate all colors of the rainbow in this special confetti soap. My favorite part about doing this type of soap is that you never quite know what you'll get until you begin slicing the bars of soap. This recipe is a little more time-consuming than most because it includes many colors. Alternatively, this recipe provides a great opportunity to use up any leftover soap ends or scraps!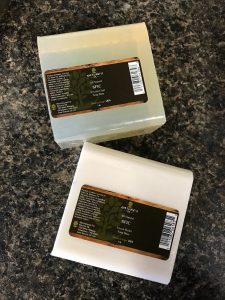 Here's what you'll need:
1.5 lbs. SFIC Crystal Clear Melt and Pour Soap Base
2 lbs. SFIC Cocoa Butter Melt and Pour Soap Base
¼ Chrome Green Oxide Color Block
¼ Ultramarine Blue Color Block
¼ Ultramarine Violet Color Block
1 oz. Rainbow's End (Our Version Of) Fragrance Oil
Grater
Cutting board
Spray bottle of rubbing alcohol
I chose these two soap bases because the Crystal Clear soap will allow the brilliance of the color blocks to come through, while the opaque Cocoa Butter soap base provides excellent moisturization.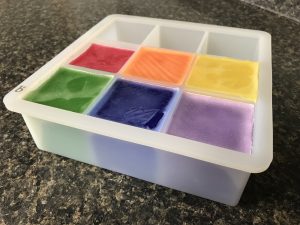 Begin by cutting the clear soap into uniform sized cubes. This process will take a bit of time, as it requires melting down six individual colors and pouring them into the block cavities of the soap mold.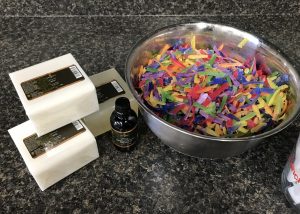 Separate each bar of clear soap base into four parts. Using half of the remaining clear soap base, cut in half and quarter. We now have enough soap to make six colors.
Quarter each color block and place one quarter into each container of 0.25 lb soap. Microwave for 45 seconds, stir, and then microwave an additional 45 seconds until completely melted. Pour the soap into the cavity of the soap mold, spray with alcohol, and repeat with each color until complete.
Allow the soap blocks to cool thoroughly before unmolding.
After removing the soap from the mold, I grated each color into a big bowl. Don't forget to wear gloves – this can get messy! As always, please use extra care and caution when using the grater. (You can pick one up at your local dollar store for $1)
Now that I've got all the preparation complete, it's time to make the loaf! After cubing the white soap and microwaving on 45 second increments until liquified, it is time to add fragrance.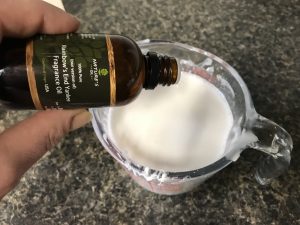 How could I not choose our Rainbow's End (our version) fragrance oil for this soap? It is a soft, fresh delightful scent and will not discolor the white soap. This makes a nice unisex fragrance.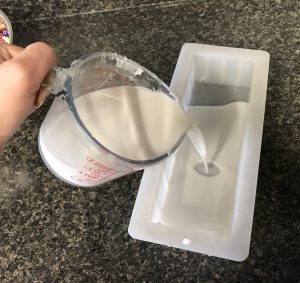 It's time to pour the soap! With the colored "confetti" soap nearby, pour the scented white soap into the mold. After the mold is approximately ¾ full, spray with alcohol and start grabbing handfuls of colored soap confetti and start sprinkling it in! Use as much or as little as you'd like. Be sure the spray the top of the soap with alcohol one more time once you've added the confetti.
Allow the loaf of soap to cool completely for at least 12 hours. Once unmolded, it will look something like this!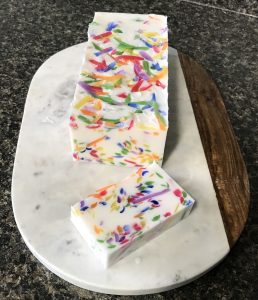 First look inside…
Once cut, the soap is ready to use. Enjoy!
Rainbow Confetti Soap Recipe