Valentine Soap Recipe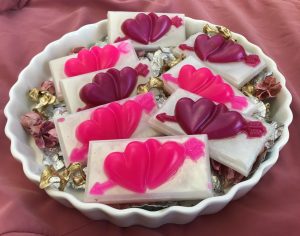 With Valentine's Day approaching, I wanted to make a soap that could be a versatile gift – yielding eight bars a tray, this is a great way to show the people in your life that you love them! What better fragrance to use than Bulk Apothecary's version of "Falling in Love?"
Here's what you'll need:
2 lbs. SFIC Clear Low Sweat Melt and Pour Soap Base
¼  Shimmer Magenta Melt and Pour Color Block
¼ Electric Bubblegum Pink Melt and Pour Color Block
¼ Shimmer Super Pearly White Melt and Pour Color Block
½ oz. Falling in Love (Our Version Of) Fragrance Oil
Cutting board
Spray bottle of rubbing alcohol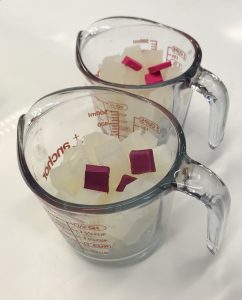 Begin by cutting 1 lb. of soap in half. Put one half aside (we'll use that later) and cut the remaining half into two. One half will be for the bubblegum pink color, the other for magenta. Cut the soap base into cubes and then quarter the color blocks and then use ¼ of the block in each measuring cup. I sliced a quarter of the color block into three slim slices to allow it to melt faster. Microwave for one minute, stir, and microwave again for an additional 30 seconds.
Add 10-30 drops of fragrance oil to each measuring cup and stir. The soap is ready to pour. Carefully pour the soap into the heart cavities of the mold. If you pour extra, do not worry – you can scrape the extra soap off the mold before pouring the second layer (not everything has to be perfect)! Spritz the hearts with alcohol to eliminate bubbles, and allow to cool for 20 minutes before pouring the next layer.
Melt the remaining 1.5 lbs. of cubed soap, along with ¼ of the shimmer pearl color block, for one minute. Stir, and then continue to microwave in 30 second increments until completely melted. Add the remainder of the fragrance oil, stir, and pour very carefully. Be sure not to pour the soap directly onto the hearts – this could cause the layers to mix together.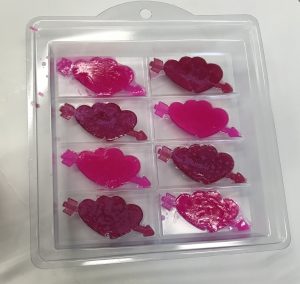 After allowing the soap to set for two hours, carefully pull away at each side to release the vacuum seal that has formed. Flip the mold over and lightly push the soap out onto a flat surface. Your soap is now ready to cut! Use a knife of soap cutter to divide the tray up into eight individual bars.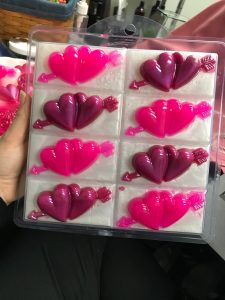 Happy Valentine's Day, Bulkers!
Valentine Soap Recipe