Eggnog Holiday Dessert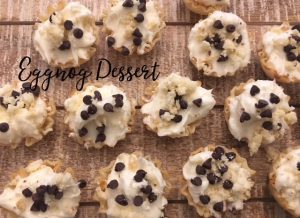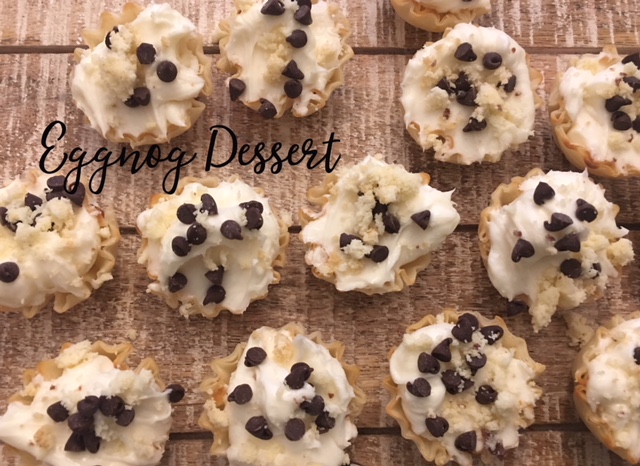 I've been searching the internet for a new holiday dessert. There's so many delicious recipes out there,
but I'm looking for something different that I've never tried or made before.
With the holiday get togethers happening ever day, I needed a new recipe idea and fast! Something
quick and easy, but that looks like I'm a top-notch baker. Needless to say, I found that recipe. To whomever
created it, thank you! I've found my new go to holiday dessert. I hope you enjoy this and much as we all
did. I've made it 3 times already!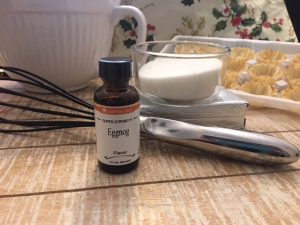 Ingredients:
LorAnn Oils- Eggnog Flavor ¼ teaspoon
1 8oz block of regular cream cheese
1 cup sugar
1/4 powdered sugar
Gingerbread snaps or cookie crumbles for topping
Dark chocolate tiny morsels for garnish
Mini Fillo ( phyllo) Dough Shells- 15 fully baked shells ( I used the Athens foods brand from my local
grocery store)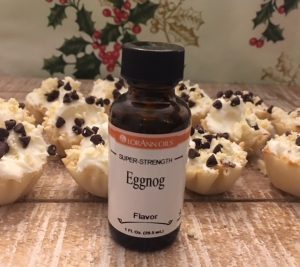 Directions:
Place block of cream cheese in mixing bowl and beat on medium speed until creamy. Next, add 1 cup of
sugar and beat on low and then medium speed. Add ¼ teaspoon of eggnog flavor (FYI: a little goes a
long way, if you are not a true fan of eggnog, add less).
Lastly fold in ¼ cup powdered sugar, and it's ready for a sample tasting! 🙂
I used phyllo dough shells, they're fully baked and ready to be filled. I use them in many recipes, sweet
or savory.
Spoon a big dollop into each shell. This recipe will generously fill 15 mini fillo shells.
Garnish with dark chocolate morsels and gingerbread or cookie crumbles.
Refrigerate for 15 minutes before serving.
Bulk Apothecary carries a wide variety of LorAnn Oils in many flavors. You can use any of these flavored
oils in this recipe.
Enjoy and happy eating! 🙂
Eggnog Holiday Dessert Recipe