Okay, so today we have a "Hand Repair Cream" recipe for those of us suffering from torn-up hands due to cold weather. Just apply a small amount to your hands after your workout and/or before bed (apply up to 3 times a day). It will feel a bit sticky, but after a few applications, you will be used to it. Even if you aren't suffering from callous hands, you can use this recipe to soften the skin–just think of it as a more intense moisturizer for tough hands! 
This recipe is a great gift for anyone you know that appreciates a good workout!
Materials
: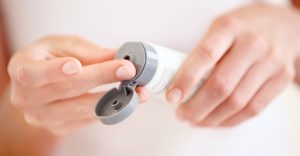 2 Tablespoons

 Lanolin

1 teaspoon of Tincture of Benzoin (this product can be found at your nearest drug store/healthy supply store under the name Friar's Balsam)

1- 4 oz.

 plastic jar with lid
Directions:
Just mix the

 lanolin

 with the tincture of benzoin in a small jar.

 Add more lanolin to make the product less sticky. You only need about a small-dime size amount peruse. 

Mix in a drop or 2 of essential oil for scenting and added moisture. I recommend

 Eucalyptus Essential Oil

 as it has added healing benefits.
Hope you love our Hand Repair Cream! 
---
Let us know if you try out this recipe or any others from our blog!
Looking for the best soap making supplies? Check out our website for melt and pour bases, molds, fragrance oils, butters, waxes, and more!
Bulk Apothecary is the best supplier of all things soap making! 
Bulk Apothecary makes no claims of "expert status" and the company will not be liable for any losses, injuries, or damages from the use of the information found on this website.
As with all products, users should test a small amount prior to normal extended use. If pregnant or suffering from illness, consult a doctor before use.