DIY Frosty Hat Bath Bombs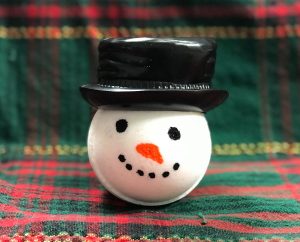 Bulk Apothecary is very excited to announce the arrival of bath bombs and shower steamers to our product lineup! These make fantastic gifts for friends and family and they are available to you now, right before the holidays! To celebrate, I wanted to share with you a fun, quick and easy project to do with the kids to add a little homemade touch to your gift.
Here's what you'll need:
Small cube of Melt and Pour Soap Base (leftovers are great for this)
Non-toxic markers (alternatively, use pigment powder and a paint brush)
Disposable spoon or popsicle stick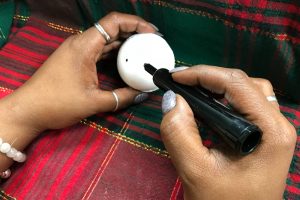 For this project, I used the Birthday Cake bath bomb because it is white like a snowman! Turn the bath bomb sideways so the seam is hidden. Begin by making two small dots for eyes, then make them bigger to the size you desire. (Please keep in mind that water in the marker may activate the citric acid in the bath bomb, so do this step gently!) Use an orange marker or pigment powder to give our little friend a carrot nose, then follow up with more dots beneath it to give him a nice smile!
To secure the Frosty Hat to the bath bomb, melt a cube of melt and pour soap base in the microwave for 10 seconds. Using your spoon or popsicle stick, apply a dab of the melt and pour soap under the Frosty Hat, then secure it in place on top of the bath bomb. The melt and pour soap acts as a glue for the hat – how cool!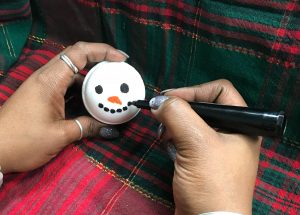 There are so many different ways to dress him up! Bulk Apothecary offers Taffeta Bows, decorative Organza Bags and much more. Don't forget to take a look around your house – one of my favorite things about do-it-yourself projects is the ability for endless personalization and the opportunity for me to find things I already own and put them to good use!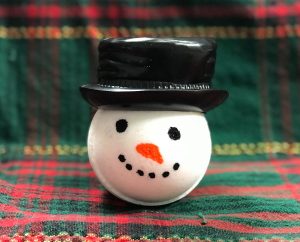 Frosty Bath Bomb Recipe