Gingerbread Men Soap– Are these not the cutest little soaps you ever did see? I think so!
I just LOVE the gingerbread man soap mold from Bulk Apothecary. These little guys smell like Christmas and make perfect stocking stuffers. They're easy-peasy to make and turn out absolutely adorable! Who wouldn't love receiving one?!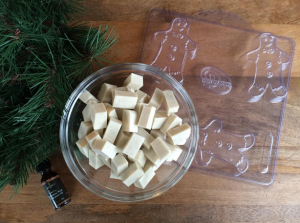 Directions:
I actually ended up making the recipe twice- Once I used the Christmas Wish fragrance oil which smells amazing, and the second time I used Butterscotch Cookie Dough fragrance oil which is soooo yummy!! You can use any fragrance you'd like, but since the soap looks like a gingerbread man cookie- go with something that reflects that!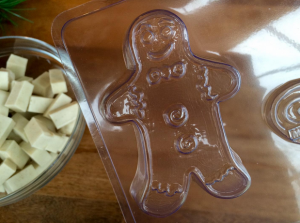 Ahh! Is he not the cutest?! This mold makes three soaps- which is what the recipe yields. I loved the way they turned out so much that I made a second batch. The turnaround time is so quick that if you're making multiple batches, you can easily use the same mold. Or you can scoop up another mold and double the recipe.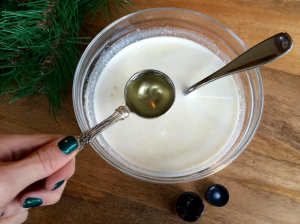 Melt the soap base in a microwave-safe bowl using short time intervals and stirring in between until all of the cubed have melted into a smooth liquid. I like the oatmeal base with this recipe because it has a nice organic color (not super white) which is perfect for gingerbread men. If you use a different base that's really white, you can always add color to it if you need to.
Once melted, stir in the fragrance oil. For one pound of soap base, I used 1 TBS of fragrance oil.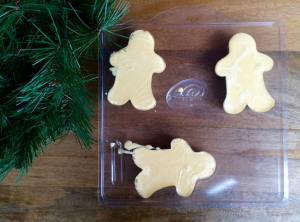 Carefully pour the mixture into the molds and allow the soap to set and harden. This should take about an hour or so. Once set, flip the try over and apply firm pressure along the border of each soap and directly in the middle of each soap. They should release easily. If you meet resistance just pop the tray into the freezer for a few minutes and try again.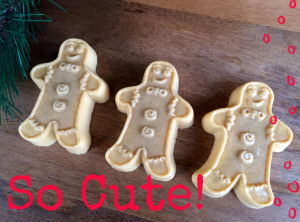 ---
Let us know if you try out this recipe or any others from our blog!
Looking for the best soap making supplies? Check out our website for melt and pour bases, molds, fragrance oils, butters, waxes, and more!
Bulk Apothecary is the best supplier of all things soap making!
Bulk Apothecary makes no claims of "expert status" and the company will not be liable for any losses, injuries, or damages from the use of the information found on this website.
As with all products, users should test a small amount prior to normal extended use. If pregnant or suffering from illness, consult a doctor before use.