Recently, I stumbled upon a little blogspot adorably coined "megs made it". As the name of her blog indicates, she shares her crafty recipes and DIY projects (things we LOVE at Bulk Apothecary!) and does a great job at it! When I scrolled down to her recipe for Chocolate Ice Cream Bubble Bath Truffles, I was totally inspired to try it for myself! I love bath bombs as it is, but this idea was so smart!
Typically bath bombs are made using molds to create a perfect spherical little ball, but by using an ice cream scoop with the chocolate colored mixture, the texture looks exactly like ice cream (hence the name….). SO creative and fun, right!
What's nice about just scooping the mixture rather than packing it into molds is that it makes this recipe so easy to do. So gather the supplies listed below and try it for yourself! These would make awesome party favors for kids- and they could help! Just remember to work quickly since they set fast!
*Chocolate Ice Cream Bath Truffles*
Things you'll need:
2 oz Cocoa Butter
1 oz Shea Butter
1 Cup Baking Soda (Sodium Bicarbonate)
1 Cup Citric Acid
5 Tablespoons Cocoa Powder
1 Cup Sodium Lauryl Sulfate (SLSA)
1 oz Chocolate Angel Fragrance Oil
Ice Cream Scoop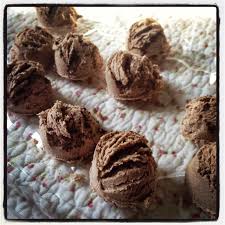 What you'll do:
1. After measuring out the shea and cocoa butters, melt them in a microwave-safe bowl using 30 second increments and stirring in between. Once completely melted, remove from heat and place aside to cool.
2. Sift together your Baking Soda, Citric Acid and Cocoa powder. Mix well to be sure there are no clumps. You can also do this with your hands while wearing rubber kitchen gloves if you'd like. You'll also want to wear a mask to avoid inhaling any of the powders.
3. After allowing the melted butters to cool, add your fragrance oil and mix well. I decided to use a chocolate fragrance to make these even more decadent! And I happen to really, really love chocolate. Like, a lot. But mix it up! Great alternatives would be vanilla, raspberry, orange, cinnamon.
4. Add your liquid ingredients to the dry ingredients. Using your gloved hands, mix everything together in a sort of kneading/squishing manner. The mixture should be the consistency of cookie dough when everything is completely incorporated.
5. Using the ice cream scoop, scoop out the dough in evenly sized balls and place them on a piece of parchment paper to set.
6. Let the truffles sit for 15-30 minutes. Store them in an airtight bag or container until ready to use or package for gifting.
To use, simply plop one into your next hot bath and completely indulge yourself in their yummy goodness. You'll step out of the tub with silky, soft skin after enjoying a fragrant bath that smells deliciously like a huge scoop of chocolate ice cream. And then you'll probably want to eat some ice cream. It's okay.
They're just awesome. Try it and see for yourself!!
(recipe inspired by megsmadeit.blogspot.com )