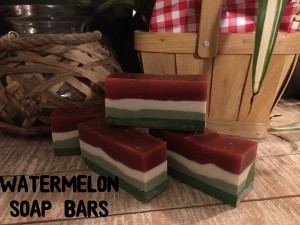 Watermelon Soap
Who doesn't love a juicy slice of watermelon during the hot summer months? Watermelon is an everyday treat in my household during the summer. It's so refreshing and my kids love it. Today we'll be making Watermelon Soap. This recipe is really simple and if you have any helpers at home, I'm sure they'll have a blast whipping up this fun recipe with you. 🙂
Ingredients:
Silicon Soap Loaf Pan (10-inch)
1lb Stephenson Melt and Pour Crystal Soap Base– Suspending
1lb Stephenson Melt and Pour Crystal Soap Base– Oatmeal Shea
Matte Oxide Pigment Powder– Woodland Green
Soap Color Block– Brick Red
Poppy Seeds (or any type of small seed)
Microwaveable mixing bowls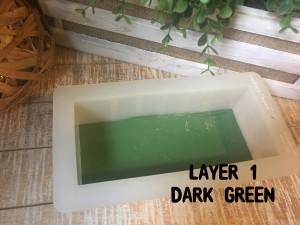 Directions:
Divide 1 lb of the oatmeal shea soap base into 3 parts. Cut into small cubes and melt first part.
Add ½ teaspoon of the woodland green pigment powder and stir until completely dissolved. The soap should be a rich green color.
Slowly pour into silicon soap loaf and allow to dry for 5 minutes before moving onto the next layer (allow at least 5 minutes between each layer). This will be your first layer of the watermelon.
Next, using the same bowl melt the 2nd part of the oatmeal shea and stir. The melted soap should be a light green color.
Slowly pour on top on the first layer.
Finally, using a clean mixing bowl, melt the remaining oatmeal shea soap base and stir until completely smooth. Slowly pour the white soap base onto the light green layer.
Tip: if bubbles start to form, spray rubbing alcohol on top of the mold. The bubbles will quickly disappear.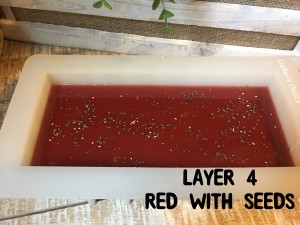 Cut and cube 1 lb of the clear suspending soap base. Microwave at 30 seconds intervals. This base tends to melt quicker.
Next add ¼ of the brick red color block and microwave for 15-20 seconds. Immediately stir until completely dissolved. If you would like a deeper red watermelon, feel free to add more color.
Very slowly pour on top of the white layer.
Sprinkle poppy seeds on this layer. Tip: any type of small seed will work. I've even used chia seeds before!
Let this mold set up overnight for best results.
These wonderful soaps make great little gifts when visiting friends and family during the summer months.
Enjoy a slice!
Watermelon Soap Recipe