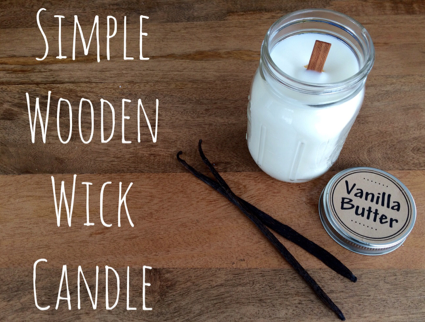 Hey Bulkers! Here's a quick, easy little recipe for candles using a wooden wick. If you haven't tried them yet, they're a fun alternative to the standard candle wick, and you can use them as a substitute in any of our candle recipes!
You only need a few items to make them and in no time at all, you'll have your very own handmade candles that are sure to impress even the pickiest of friends.
Gather up your supplies and get to work!
Ingredients:
3 1/2 – 4 cups Candle Wax (I used CB-Advanced Soy)
Vanilla Butter Fragrance Oil (yum!)
Mason Jar
Wooden Wick and Metal Clip
Directions:
Using a glass or plastic measuring cup with a spouted lip (or a similar container- the spout really helps with clean pouring), melt the wax. This can be done in the microwave using short intervals of heat or in a water bath over medium heat on a stovetop. I tend to use the microwave method to save time and reduce the number of dishes I have to clean up.
Dip the metal clip end of the wooden wick into the melted wax and secure it to the center bottom of the jar. Apply gentle but firm pressure to the wick until the wax has cooled and hardened.
Carefully pour the wax into the jar. Be sure not to fill it all the way to the top. You need to allow room for the fragrance oil to be added and you want about 1/4 inch space between the wax and the top of the jar once it's cooled.
Now add your fragrance oil. I added about 35-40 drops (slightly less than a tablespoon) to mine for a noticeable scent. You can adjust this to suit your preferences.
Voila!
Allow the candle to completely cool and harden before use. I typically wait about 24-48 hours before burning. The wooden wicks make a soft crackling sound when burning to create a beautiful ambiance in any home!
Enjoy!
Simple Wooden Wick Candle Recipe