eBay VS. Etsy: Where to Start Your Business
Starting your own business may sound like everything you've ever wanted, but when the realities of the day-to-day start to settle in, it can lose a lot of its charm.
You've got some great products and you enjoy creating them. But now, what are you going to do with them?
Working from home as you make more soap, candles, or other products can be great, but you also need to look at the business side of things and make sure you have a way to sell your products to your large number of interested customers.
In this post, we'll discuss the two most popular options for new at-home businesses: eBay and Etsy.
Either website is a great option for selling your own products. They both allow you to list your items at whatever price you choose, test out your brand, and discover which products sell and which don't.
Over the years, people have made a lot of money on both venues before venturing out and creating their own ecommerce websites. So, what's the difference, and is one better for your business?
Selling Your Homemade Products on eBay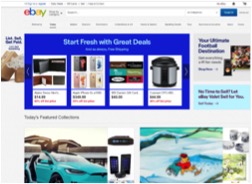 eBay has obviously been around longer than Etsy, and it has become a part of the modern online experience. Almost everyone knows someone who is currently selling or has sold something on the site. The more people used the site, though, the stricter the seller's' guidelines became. It's not as easy as it once was to promote your products and get great feedback scores. These days, it's quite a challenge to reach "power seller" status without your reputation being tarnished at some point.
Although costs are low, it is important to note that there are fees to take into account. eBay also offers the option of creating a store. This is great if you want to brand your product further than the singular item listing page.
There are some selling fees you have to cover. These fees can differ based on what you're selling, if you're accepting PayPal, and some other variables. eBay does, however, provide a free calculator so you can get a basic idea of your likely fees.
Summing up eBay, then: the benefits are the huge potential audience, the ease of use, and the reputation that comes with becoming a power seller. The cons include the range of fees and consumers that are a little less niche.
The Key to Selling on eBay
If you choose to sell your products on eBay, the key to building a good seller reputation is to constantly keep up with your customer service. Consumers expect their items to ship immediately, and if they don't get it, you can expect a bad review in return. That will lead potential buyers to shop elsewhere.
Using Etsy to Build Your Business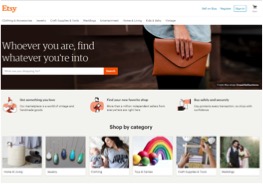 Originally, Etsy started as an online reseller of artwork. Soon, the site morphed into all things homemade. Creatives and creative-enthusiasts (yeah, I think I just created a new term), frequent the site to buy unique items crafted by people rather than huge corporations.
For the bath and body/crafters market, this is where to be. You might not have the same audience reach as eBay, but you will have a more specific demographic heading to your sales page.
Etsy also has a fee to list items, although it is less than that of eBay and it is standardized. You're looking at a $0.20 listing fee (which is good for 4 months or until the products sell) and then a 3.5% transaction fee and 3% + $0.25 payment processing fee.
Finally, Etsy still feels more like a community. While eBay has morphed into a giant company, Etsy still maintains a personal blog-type feel that isn't as overwhelming. That means it's easier to build a community of customers.
Which Is Right for You?
Ebay and Etsy are the two most common places I recommend Bulk Apothecary customers go to start making money with their products. They both have their advantages, and you may find that you don't need to choose between one or the other. Many people manage selling on both.
The Most Important Part of Your Business
The most important thing in any online sales is customer service. You must cater to your consumer as much as possible so you can build a good reputation. Online reviews will make or break you when you are just getting started.
Take the time to remind the consumers that you are putting a lot of effort into each and every order. People tend to root for the underdog, and if the customer feels like they are not only getting a unique product, but a unique experience, they will keep coming back!
Be Prepared for Shipping
Shipping costs are high and consumers are accustomed to paying very little to ship things. If you offer standard UPS rates, you will often hear people complain that the rates are too high simply because larger retailers are able to offer lower pricing.
Know the Competition
Finally, be sure to research your fellow crafters on those sites. See how much they sell their product for. Whether you're selling homemade soaps, private-labeled lip balm, or lotion products, you can start being competitive by matching or beating their prices.
You should also explore all the similar products and figure out what hasn't been done yet or what you can do better. As you continue to produce quality products and provide great support, you will gain a loyal customer base, and they will follow you to your own website when you make that move.
Be smart, do your research and get creative!
Happy selling!