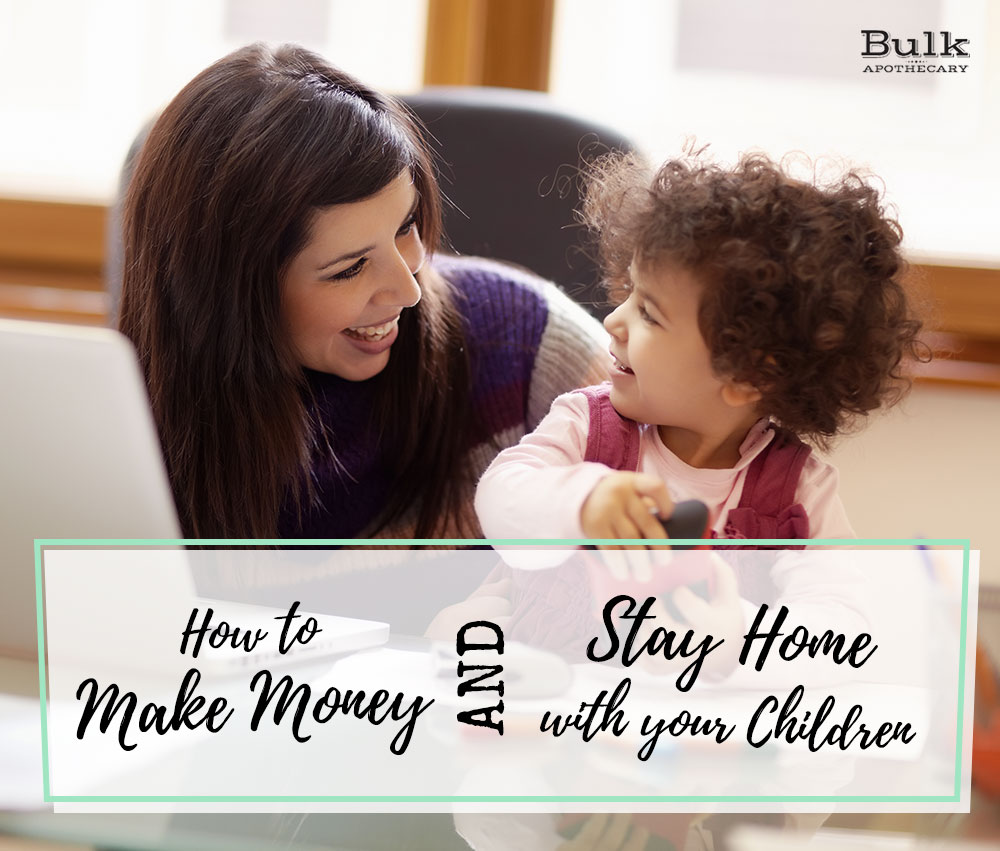 How to Make Money AND Stay Home With your Children
Forget everything you've heard about stay-at-home moms/dads. The times have changed, and gone are the days that one parent had to sacrifice their income-earning potential to stay home and raise a family.
There are a lot of opportunities to have the best of both worlds.
Our generation is starting their own businesses. Even if you've never considered running your own business before, we're here to tell you it's possible. Anyone can start working from home and living the dream of making money without interfering with your family life.
But how do you get started? A lot of people never take those first steps because they don't think they have the resources or startup capital.
The truth is, if you have a computer you can start a lot of these businesses today.
We've compiled a few of ideas for making money at home.
Blogs
Blogging has taken home entrepreneurship to a whole new level. There are multiple ways to generate income via an established blog.
Whether it's a hobby blog or a business blog, you can use it to generate some income. It's not a get rich quick situation, but if you do it right, you could make enough to support your family and more.
The most common way that bloggers earn money is through placing ads on their site.
There are two popular types of ads:
CPC/PPC Ads:Cost Per Click (also called Pay Per Click) ads are usually banners that you place in your content or sidebar. Each time a reader clicks on the ad, you are paid for that click.
CPM Ads:CPM Ads, or "cost per 1,000 impressions," are ads that pay you a fixed amount of money for each 1,000 views of the ad.
The most popular network for placing these types of ads is Google AdSense. They make the program very simple because you do not need to be in direct contact with advertisers. You simply place the banner on your site, Google chooses ads relevant to your content, and your viewers click on the ads.
There are countless similar programs available if you find that AdSense doesn't work for you.
Affiliate programs
This is a simple way to sell products through a website or blog without ever buying your own inventory or doing your own shipping.
You simply find a program that you like, some products you can get behind, and sign up for the program.
Basically, it works like this: every time someone buys one of those products through your blog or website, you get a commission on the sale.
At Bulk Apothecary, we have a great affiliate program that allows you to monetize your traffic by introducing them to our huge inventory of wholesale products.
It's easy to get started, too. If you are (or can start) blogging on a regular basis, you can sign up for this program and quickly add the affiliate links to your site. You'll get a dedicated in-house affiliate manager to help you through the process and several other benefits. These include image source links, weekly and monthly consumer promotions, and an automatically updated product and merchant feed.
Create and sell your own products
There is a huge market on sites like eBay and Etsy for things like homemade soaps, personal care products, and candles. You can get all the ingredients you need for these products at Bulk Apothecary, and you can start making them in those moments when the children aren't demanding your full attention.
As you build up a healthy stock of your own unique products, you can open a storefront on either of those two platforms and begin selling.
It will take a little more work than running an affiliate program on your website, but creating and experimenting with all those new products can be really rewarding.
You Can Have It Both Ways
These are just a few of the simple (and enjoyable) ways to make money while still being a full-time parent.
These business opportunities don't require all your attention, and, by nature, they can be done when you have time and only when you want to spend time on it.
All you have to do is what you do anyway.
If you love blogging, you can start generating some money from it. If you enjoy using essential oils and other natural products, you can share that passion (and these great prices) through your website. And if you love creating unique products, you can start getting paid for that, too.
Staying at home does not mean you have to give up that extra paycheck. Make the decision to start your business today and soon enough you'll start to reap the rewards.