If you're even somewhat in the DTC (Direct-to-consumer) world, you know the power of "social proof" and "UGC (User Generated Content)".
We've all read stories about brands that skyrocket off the mentions of key influencers (Kylie Cosmetics anyone?) 
Unless you're a celebrity or influencer yourself if you're the only one doing the talking about your brand, you're doing yourself an exponential disservice. 
Why? Because the brutal truth is that people are way more likely to trust someone else saying your brand is awesome or your product works, rather than you saying it. 
Even before we launched, I was starting to line up coverage in Forbes as a contributor, which allowed me to write over a dozen articles about what it took to turn my father's research in the microbiome, into a microbiome company built on real clinical science. 
We followed that up with coverage everywhere from a national NPR interview to Muscle & Fitness Magazine, and seemingly everywhere else in between. In fact, the day we launched, Goop ran an article on us which resulted in over $16,000 in sales the day we launched. 
But the problem was… PR is often a one-time hit, so if we weren't able to leverage ongoing coverage, by definition we would see huge ebbs and flows between those media mentions. 
Sure we were able to turn those features into ads and soundbites that we could leverage into ongoing social proof, but the organic impact on sales was very hard to predict. 
As part of our launch, we had also started to look for influencers to work with, and at first, I found a handful of yoga influencers that I paid to post. While they brought in some revenue, it was really interesting to see the way they positioned BIOHM and the questions and comments their audience would make on their posts. 
We also got some really cool UGC. 
Here are some of the influencer posts we got from that first campaign: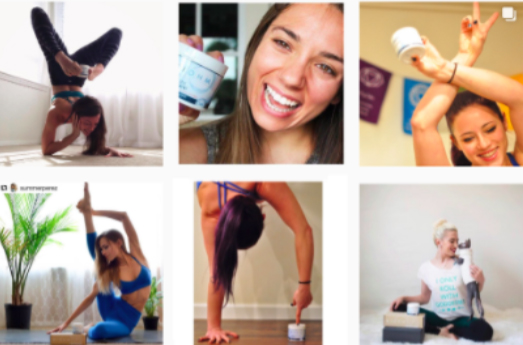 After those initial posts went live, we had several smaller influencers (with between 5k and 25k followers) reach out and offer to post for free in exchange for some product. 
We said sure, and instead of paying them, we gave them a code they could use which would give them up to 15% commission for any sales they generated.
We figured, what could be lost?
Well, a few weeks later we started seeing awesome content. Unlike the paid posts (that were good but honestly seemed a little posed), the influencers posting for free came across as super passionate about the brand and they were surprisingly generating a decent amount of sales. 
They were also breaking down the complex science behind BIOHM into easy to understand messages for their audiences.
It was great!
So it got me thinking, "Huh…I wonder if we could systemize this and scale it without having to pay for content?"
And so from the summer of 2017 on, we have slowly but surely built an army of BIOHM ambassadors that are not only talking about BIOHM on an ongoing basis, but that create endless UGC that we have been able to repurpose into killer ads and social media content.
Do they generate sales? Absolutely. It ranges from some that have never made a dollar and posted a couple of times ever, to hundreds that make a few hundred bucks a month, to our upper echelon ambassadors that make in the thousands a month in commission.
Our biggest ambassador consistently makes over $25k a month in commission. Not sales, commission. 

So my goal is to show you exactly how we run an ambassador program, including the templates we use to reach out to potential ambassadors, as well as how we stay organized. 

Now, this is critical to understand: THIS.TAKES.CONSISTENT. EFFORT. There is no shortcut to building a robust ambassador program. You've got to reach out to hundreds (yes hundreds) of potential ambassadors every week because some will respond, less will take you up on getting a sample, less will post anything, and even less that post will want to sign up to be an ambassador.
Even after they sign up, you've got to work to build and maintain a relationship with them, and even then, most will end up not doing much. But the pay-off can be immense. Remember our top ambassador doing over $25k a month in commission? 

We reached out to her in 2018 when she had a small audience and I don't think she made more than forty bucks in a commission that first month. But it didn't matter, my team would always answer any questions she had, sent words of encouragement, and treated her like a VIP even when she was just getting started. 

Since that first forty dollars in commission, she's gone on to build a big audience, and guess what…. she's talked about us the entire time, so as her audience grew, her sales grew. 

Now brands approach her all the time for paid opportunities and she blows them off because we were treating her like a bid day since day one.   

The point being, building an ambassador is a process, but if you stick with it, you can build a robust moat of genuine social proof around your brand.  So let's get into it. 
STAYING ORGANIZED 
First, you're going to need a way to keep track of your outreach and ambassadors. We use a pretty simple doc which I've turned into a template you can use: 
As you'll see, we use each tab to track progression. 
They start in an overall tracker, where we list every potential ambassador called "Overall" (Tab 1)

Once we reach out to them, we move them over to "Outreach" (Tab 2) 

If they sign up we move them over to "Ambassadors" (Tab 3) 

If they go inactive we move them over to "Inactive" (Tab 4) 
The name of the game is filling up Tab1, and tracking them through to Tab4. 

That's it. Sounds easy. It is if you do it day in and day out. 
FINDING POTENTIAL AMBASSADORS TO REACH OUT TO 
So how do we find them initially? 
We have an intern start trolling Instagram, following the rabbit hole from one influencer to another. 
We'll start in a category, say nutritionists, and just have them find a few to start with and look at who's following them, who they follow, who's suggested to follow, and on.
Size-wise, we're typically going no less than 5k followers and no more than 50k, but the sweet spot is around 25k followers. 
Pretty quickly you'll have hundreds of people to start reaching out to.
REACHING OUT TO POTENTIAL AMBASSADORS 
While we will DM people, we've found that it's more effective if you're able to email them. 
The vast majority will usually include an email address for "collabs" in their bios, so that's how we'll get their emails. 
If they don't, then we will DM them.
One note, you have to be careful with DM's because if you send too many out too quickly you can end up getting your account frozen. 
So what do we say when reaching out?
Below are templates that follow our outreach process, but the reality is you're going to have to test to see what works for you and your brand. 
Just act like a normal human, don't be pushy, and honestly, it's pretty hard to go wrong.
Initial Outreach Message: 
Hi there!
It's MaryKate, BIOHM Health's Brand Ambassador Coordinator! I came across your Instagram profile and LOVE what you are doing, so I wanted to reach out.
BIOHM is a gut health company and we have the first probiotic proven to break down digestive plaque, like your teeth but in your tummy.
We also have some really tasty probiotic super greens! Usually, super greens powder tastes unpleasant, but ours doesn't with our Monk Fruit Extract and Natural Blueberry Flavor! I thought you might be interested in trying our product so I would be more than happy to send you some goodies.
If you would like more information, feel free to check out our website & blog. There is a lot of great information on gut health in general, and BIOHM individually.
Have a great day!
The second outreach we'll send a couple of days later if we don't hear back: 
This is Melanie at BIOHM following up on my IG message regarding our product!
As I mentioned, we are a gut health company and our probiotics are the first proven to break down digestive plaque! This is so important because when this plaque is broken down (kind of like plaque on your teeth, your microbiome has the samething), our bodies are better able to absorb nutrients from the foods we eat.
Additionally, BIOHM is the first probiotic to combine both good bacteria AND good fungi to help maintain an overall balanced gut, whereas others only target bacteria, creating a partial solution.
For more info, you should check out our website & blog! There is a lot of great information on gut health in general and BIOHM individually. 
If you're interested in trying our product, I'd be happy to send you some goodies! If you could send me your full name & mailing address I can get something out to you!
Let me know!
AFTER THEY ACCEPT SAMPLES
Once they say they'd like to try a product sample, we'll then go into more detail about our ambassador program and the rules of the road. 

Now one more point that always comes up, do you have to send samples? The short answer is yes in my experience. 

We used to send full bottles of the product but that got way too expensive, so we send them a few days worth of product to test in really nice sample bags that photograph well. 

The packaging is really important. Spend the money on some decent sample bags, because if they don't look professional, they won't photograph them and probably won't trust the
product. 
So once we see that they enjoyed the product (either from a great post or after asking them), we'll go in for a soft sell of the ambassador program. 
Information about the program:
Here is a little run down on our Ambassador Program! I would love to have you join!
The most important thing I want to emphasize is that we want this to be a collaborative relationship and make sure that we're providing quality content to help you build your brand too. 
As a BIOHM Ambassador, you will get: 
15% off coupon to share with your audience
10% commission in return
Based on the revenue generated, you'll also have the ability to earn FREE product + BIOHM Swag + apparel items + more! 
Ambassador Benefits
Exclusive Rewards Program
We have built a rewards program for our team of Ambassadors and them only, including FREE product, swag, and more!
Industry Exposure
We'll help you stay up to date with the latest in gut health while connecting you with like-minded brands and professionals.
Earn Income 
A custom promo code will be provided for you to promote through your social media channels allowing you to earn additional income. You get to choose what you want your discount code to be. Earned commissions are paid out at the end of each calendar month, assuming you reach the $100 payout threshold.
24/7 Ambassador and Customer Support
Whether it is an email, direct message, or our online chat, we are always here to assist you with your questions, comments, or concerns.
Access Exclusive Content
Gut-Friendly Recipes

Gut Health Tips, Photos and Videos

++ More!
As a part of the program, you have our permission to repurpose all of this content for your social feed, audience, and coaching! 
As far as posting requirements go, we do ask that you include disclosures that you're an ambassador in all posts. 
If you are interested in signing up, you can do so here
Please let me know if you have any questions – we're always open to new ideas and suggestions to make this Ambassador Program truly beneficial for both of us!
Let me know if you're interested or have any other questions! 🙂
Now I highly advise that you read that message a couple of times. You'll see that we're not just trying to get them to SELL SELL SELL. We're explaining that they can really benefit from the program through exposure and training. 
And we put our money where our mouth is on that front. We've flown top ambassadors out for a weekend of training and fun events, we constantly feature great UGC content on our main IG stories, and we've had ambassadors featured on our podcast, The Microbiome Report, as well as in our email blasts. 
The point being, we go out of our way to make them feel special for being part of the program.  
WELCOMING THEM ABOARD 
So once they officially join, we send the below welcome message with a lot of important details: 
Welcome Message:
Hey there,
WELCOME to the BIOHM Ambassador Program! We are so happy to have you as part of the #BIOHMAmbassador family!!
Your requested code is now active! This code will save your fans 15% and earn you 10% commission! 
Here is your unique link that you can share in the event we are having a promotion with a discount code:
Please keep in mind that if a customer doesn't use your discount code, they do not save any $$.
NEXT STEPS
PRIVATE AMBASSADOR FACEBOOK GROUP – Our Private Ambassador Facebook Group is a great place to ask any questions, participate in weekly contests, get awesome post ideas, exclusive content you can re-purpose, connect with hundreds of other ambassadors and learn about the latest and greatest in the world of BIOHM. Click here to join.

 AMBASSADOR ASSETS -Here's a link to our Ambassador Assets filled with content for you to use, our ongoing promos, product and science FAQs, and much more. We're constantly updating this so you'll want to keep this handy. 
IMPORTANT NOTES
Lastly, here are a few important notes I wanted to point out:
BIOHM is always spelled with all uppercase letters.
BIOHM is not intended to prevent, treat or cure any disease or condition, so please do not make claims along those lines  (Examples are: fighting a cold, curing a digestive issue or symptom, etc.). This is very important.   
Your posts must include a disclosure that it's a sponsored post. 
$$ Commissions are paid out at the beginning of each calendar month from the previous month, assuming you reach the $100 payout threshold  
Let me know if you have any questions!
Talk to you soon,
Melanie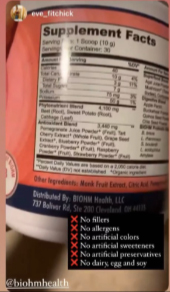 A few things to keep note of from this message. First, you'll see that we give them a ton to work with asset wise. That's important because the easier you make for them to post, the more likely they are to do it. 
Now some will naturally create amazing video content talking about the product, and that's great, but a lot just won't if they're not provided with great-looking photography.
So we give them a whole folder of approved gifs, videos, and photographs that they can customize and post themselves. 
We also include links to simple one-pagers that explain each product and give them suggested sound bites to explain the product.
Like this post, I pulled from our IG stories today. She took points from our product break down and just added them to a video she made about the product. Super easy for her, and great content for us!
You'll see that we are also very specific about what they have to include in the post-disclosure wise, as well as what they can and can't say about the product. [Disclaimer: Don't rely on these templates for what you must do to keep in good standing regulatory disclosure or claim wise, it's ever-evolving and we had our legal counsel look at this, as you should as well]. 
And with that, you now have an ambassador program! 
It may seem like a lot, but we had a couple of people build all of these materials over a couple of months, and we run the entire program with a couple of people and an intern who builds out our reach out lists. 
In the last couple of programming notes, we use Tapfiliate to track ambassador commissions, it's pretty good but there are a bunch of similar programs that you may want to check out. Commission percentages come down to what you're comfortable with gross margin wise and how aggressive you want to be on motivating ambassadors. It's a balancing act for sure but there's no hard and fast rule.
So once you've launched, be ready to answer questions, monitor posts for compliance and great content you can re-use, and we try to send an email newsletter out to them just to keep them in the loop on the latest and great the BIOHM world.
Good Luck!